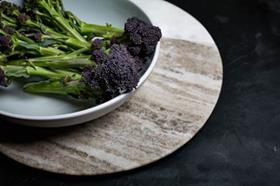 The Burgundy Broccoli brand has launched a new variety of purple sprouting broccoli at Waitrose and Co-op.
In 2019 the brand released the UK's first wholehead purple broccoli that can be eaten in its entirety, either raw or cooked.
Burgundy Broccoli now also offers a purple sprouting broccoli following a successful trial period at retailers nationwide. The product has enjoyed rapid sales growth since trials began last year.
Purple broccoli is richer in antioxidants than green, and according to Burgundy Broccoli the new product also benefits from the "superlative tenderness" of the Burgundy variety.
Produced by Lincolnshire breeder Elsoms, it will be grown in the UK from spring until November.
Dave Clay, brassica crop manager at Elsoms, developed Burgundy Broccoli and the new purple sprouting broccoli. He said: "As a nation, we are passionate about quality crops and produce, and I think the response to our PSB really reflects that. We've seen sales of purple sprouting broccoli units double, since introducing the product last autumn.
"It's got a slightly sweeter taste profile than your average broccoli, and it's beautifully tender making it the perfect veg for a midweek dinner or a weekend treat."
The new product is available from Waitrose and Co-op at an RRP of £1.80 per pack.