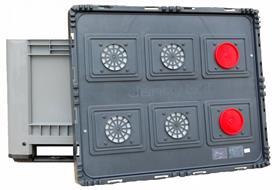 Fresh produce storage specialist Janny MT has joined forces with Spalding-based agricultural supplies firm Dejex to distribute its controlled atmosphere storage bins in the UK.
The French company sees new opportunities to drive demand for its storage-life boosting plastic containers due to the trade disruption caused by Brexit and Covid-19.

Extending the availability of domestically grown produce is a major advantage for British producers in the current climate, explained Janny MT's export development manager Celine Kuentz.
"With the UK facing transport challenges, our modules can be very useful to keep UK production a while longer before importing," she said, adding that Janny MT had partnered with Dejex to be 'close to the grower' at a time when travelling from France to the UK is tricky due to Covid.
Berry Gardens, Flamingo and various topfruit growers already use Janny MT's bins in the UK, but until now these grey plastic containers have largely been the preserve of producers in France, Switzerland, Germany and the Netherlands, as well as Algeria and the US.
The cap on Janny MT's bins regulates oxygen and CO2 levels inside the box, reducing the fruit's or vegetables' respiration rate with no need for power. This prolongs the crop's storage life, reduces waste, and hopefully allows the producer to target markets where they can command a higher price at the end of the season.
Not only do the bins allow producers to extend their sales period, they provide greater storage flexibility, allowing producers to become more independent and store more product themselves. This can be useful for growers looking to diversify and sell through new channels such as farm shops.
"We feel a big evolution is happening in the grower marketplace," Kuentz said. "People definitely want more local product in England and growers are starting to adapt to the new, shorter channels of distribution that are opening up to them."
The storage containers are mainly aimed at growers without expensive controlled atmosphere stores. Although the bins offer valuable storage flexibility to producers of all sizes, Dejex MD Alex Stevenson explained that his company is particularly targeting the medium-sized grower.
"Small growers will probably have quite short supply chains and move product quickly, while huge leviathans have their own controlled atmosphere stores. This product fits nicely for the medium-sized grower, or one producing a wide variety of crops, whose storage might not be geared up for monocropping."
The range of produce that can be stored in the bins is fairly exhaustive, with 35 products tried and tested by Janny MT. In Britain, soft fruit, topfruit, salads and cut flowers will be Dejex's main areas of focus, Stevenson said.
Each 610H controlled atmosphere storage bin is composed of a Tiempo Cap lid and a 610 litre bin with three skids. When the lid is clipped onto each bin filled with product, the controlled atmosphere moderates the product's respiraion and the tight seal maintains the humidity.

Selective permeability membranes stabilise the oxygen and CO2 levels between one and five per cent, further increasing the potential duration of storage.
The only difference in the way each module is used is the number of membranes that are opened or closed as the storage regime adapts to each specific product.
"Using our system, any grower with a cold room can achieve the same results as a CA store would for a proportion of their crop, which they can then sell direct to market," Kuentz said.
"Typically, our customers will sell between 10 and 30 per cent of their crop this way. Often in the vegetable business, 10-50 per cent of the crop is wasted because historically it has been less efficient to pick it than leave it in the field, so immediately you can see what a difference our system can make.
"What we often see with short-season products like cherries and asparagus is that growers are unable to sell their product quickly at the peak of the season and this also contributes to there being higher levels of waste than are necessary.
"Our modules can add weeks to the life of the product without any loss of weight or nutritional value, giving growers the flexibility to hold product back and then sell it into the market at the right time for them and their customers. So they are optimising quality and the return on their crop and reducing waste in a totally natural way – all of these are big wins."