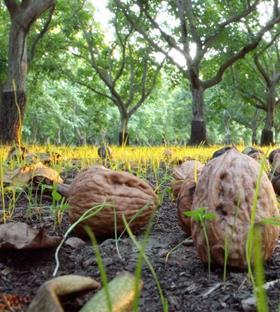 The California Walnut Commission has relaunched in the UK after twenty years of promotional inactivity as it looks to ride the wave of increased demand for the product in recent years.
Since 2005 sales of Californian walnuts, as well as other nuts, have boomed in Britain, with import volumes growing by 133 per cent year on year in 2015, according to the commission.
The UK is now the third-largest market for Californian walnuts in Europe, behind Germany and Spain, and the sixth-largest market globally as of August 2016.
This has partly been driven by favourable press coverage, with consumers viewing walnuts as a healthy option thanks to reports on their high levels of omega 3 fatty acids. These help to keep down cholesterol and prevent coronary heart disease.
"There has been a resurgence in nuts being seen as a healthy option for consumers, so sales through retail have increased dramatically since 2005 on all nuts," said Peter Meadows of PR company The Garden, which is leading the campaign.
Growth in retail sales of bagged nuts has also benefitted Californian producers, according to Meadows, who believes a move away from cheaper Chinese and Indian product in the mid noughties was driven by demand for quality.
The campaign, which will feature in-store promotions by the end of 2017, will focus on advertisements and editorials in the trade and consumer press. The Garden will be responsible for the trade campaign, with PR company Richmond Towers in charge of promoting the product to consumers.
"We want to make California walnuts the leading UK choice across both trade and retail," he added. "We are keen to push the product's consistency and taste, as well as the heavily controlled husbandry and growing practices used to produce them. These allow growers to produce consistent high-specification walnuts year in, year out."
Meadows believes this year's UK campaign will profit from British consumers' high perception of Californian products. "There's already a high perceived quality of Californian products in the UK," he said, drawing on his experience as marketing director of California Raisins for the UK and Scandinavia.

We've done research on other products and the general view of California among British consumers is one of sun, sea and healthy outdoor living. Retailers such as Lidl see a value in putting the word 'Californian' on their walnut packaging. As with Sicilian lemons or Belgian chocolate, it carries a certain kudos."
Some 680,000 short tons (616,885 tonnes) of walnuts were grown in the Californian valley in 2016 – an 11 per cent increase on 2015.