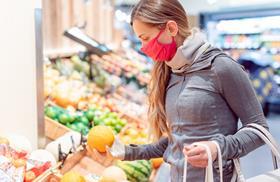 The Institute of Food Science and Technology has called on the government to introduce a truly UK-wide National Food Strategy with strong foundations in science and technology and better education on healthy and sustainable diets.
The organisation of food science and technology professionals identified three key areas that should be addressed to ensure future food security in the UK.
These are:
- The need for a long-term and truly UK-wide national food strategy;
- Investment in the food sector to build a competent, innovative and resilient industry with strong foundations in science and technology;
- A need to inform and educate our UK population on healthy, sustainable diets to empower citizens to eat healthily and sustainably.
IFST said it fully supports the creation of a National Food Strategy, which was first announced by Michael Gove back in 2018, with an independent review led by co-founder of the Leon restaurant chain, Henry Dimbleby.

The body stressed that the strategy's scope should cover the entire country and address the interdependencies of the food system from production through to consumption.
It recommended that the strategy be "ambitious and holistic" with a clear pathway to implementation, while addressing the interdependencies of the food system.
President of IFST Helen Munday said:"Unprecedented change in the food system, resulting from EU exit and Covid-19, has shown how important a resilient UK food system is.
"Without an inclusive UK-wide food strategy with long-term goals and a global view, we will not leverage technological opportunities to improve and develop UK food to be fit for the future.
"IFST's vision highlights the need for investment in innovation, its implementation and the skills needed to deliver more sustainable products and processes.
"Providing our citizens with a greater understanding of food and diet will empower them to make informed food choices, build trust and open dialogues around new technologies."
IFST also noted that food system resilience should be built in, ensuring capacity to survive shocks, adapt to change and make a significant contribution to the UK economy.
The UK food system is a key to efforts to meet global and national environmental targets, the organisation said, and strategic investment in food research and supporting infrastructure is needed to build the UK's global position as a leader in food R&D.