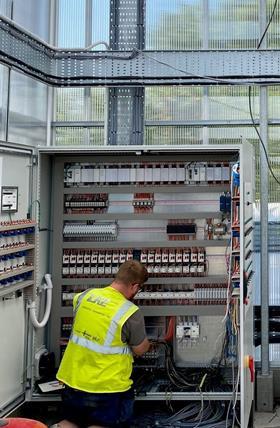 The technical skills of the CambridgeHOK glasshouses team have been called upon to provide a new high-tech plant research facility for leading crop science organisation NIAB.
Having first been selected to build glasshouses for NIAB in 2009, the engineering firm, which specialises in automated vertical farming centres and commercial glasshouses, is now developing the latest addition to the research facilities at NIAB's Park Farm site on the outskirts of Cambridge, alongside project managers Burnley Wilson Fish.
The new specialist glasshouse will provide research space for the recently launched Crop Science Centre – a coalition between NIAB and the University of Cambridge's Department of Plant Sciences, working together to develop higher yielding and more climate resilient crops.
Specifically designed to enhance the speed of crop growth with high specification LED grow lighting systems, a high-pressure fogging system for humidity, mechanical cooling and forced air ventilation, the new facility is set to be completed next month.
The two-compartment glasshouse has been developed to aid research into the growth of a wide variety of crops and be flexible to allow varied usage over the years to come.
John Holland, engineering director at CambridgeHOK, said it is the result of extensive planning between all three parties involved.
"We're really proud of the excellent relationship we have with NIAB and to have developed a number of glasshouses with various numbers of compartments for them for more than a decade now," he said.
"This project has been one which needed very detailed planning before we started the design process as we needed to understand the exact requirements of the glasshouse environment and what it needed to be able to do.
"We had many discussions between the three parties to ensure we got that right and what we will hand over next month will be a highly-sophisticated growing environment where crops will be able to grow at speed due to the equipment and systems installed."
Partnership of innovation dates back more than a decade
CambridgeHOK built eight compartments over three glasshouse structures for its first project with NIAB in 2009, providing a biomass-powered energy centre on site to enable the growth of potatoes, wheats, grasses, corn, and chrysanthemums.
Over the years a further eight compartments have been added, including a glasshouse with five containment level one compartments, featuring double door entry systems, filters on air exchange and cooling systems.
Educational facilities, where glasshouses have included benches and space for up to 25 people to take part in training events and seminars, were also added.
The latest glasshouse development has been connected to the existing heating, irrigation, environment, and alarm systems, ensuring maximum efficiency and a seamless new addition to site.
"One of the great benefits of our long-standing partnership with NIAB is we understand the work they do, appreciate the need for us to really understand the detail and specifications of each individual project, and have the knowledge of their systems to ensure we can provide the ideal solution," added Mr Holland.
"As a business we are very proud of the innovative work we have done with the NIAB over the past 12 years, and we very much look forward to the relationship continuing.
"It is particularly pleasing when we are asked to take on another project, as it demonstrates the confidence they have in our ability, knowledge and delivery, especially in terms of creating specific environments and controls.
"We look forward to providing full training to the team in the operation of the new glasshouse after we have officially handed the building over."
NIAB is the UK's fastest growing crop science organisation, with rapidly expanding research capabilities in plant genetics, agronomy, farming systems and data science, the largest national field trials capability, and strong research links with industry, Government, and academia.
With headquarters in Cambridge, and regional offices across the country, employing more than 400 people across the UK, NIAB provides scientific research, technical services, and practical advice to improve the yield, efficiency, and resilience of crop production across the arable, forage and horticulture sectors.
The Crop Science Centre is a coalition between the University of Cambridge, Department of Plant Sciences and NIAB, that focuses on translational research in crops with real-world impact.