Apple brand focuses on TikTok as it looks to engage a younger audience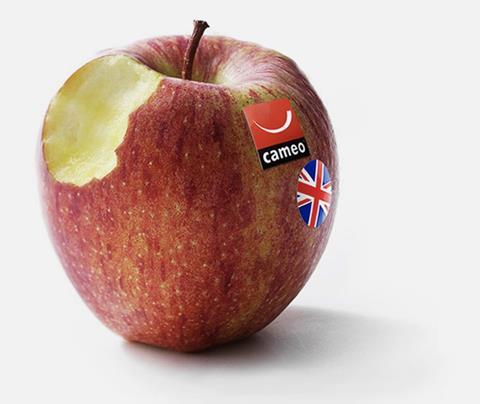 The Cameo apple brand has expanded its UK social media campaign for 2023 to target a wider spread of consumers.
Speaking to FPJ at Fruit Logistica in Berlin, the brand's UK marketing representative Adrian Barlow said suppliers wanted to make Cameo better known among the public as investment in production increases. "We want consumers going into stores and asking for it," he added.
Cameo has been running a Facebook marketing campaign for the past six years, but with that platform's user base getting older, Cameo was keen to access to younger consumers in the 20s and 30s. It therefore carried out a four-week trial on TikTok last year, which proved highly effective.
On the back of the successful trial, the apple brand is running a four-month campaign this year, with 70% of its social media marketing focused on TikTok and the remainder on Facebook.
For Facebook, a series of 20-30 second video clips was created, while for TikTok the campaign will post some 175 10-second videos between January and April. Each video aims to highlight a particular 'benefit' of the apple, such as its unusual citrus taste, texture or juiciness.
The expanded marketing push comes as UK production and sales continue to climb. In 2018/19, some 2,809t of Cameo were sold in the UK, but for 2022/23 some 5,400t of fruit is expected to be sold fresh out of a total harvest of 7,165t. "Growers are making big investments," Barlow confirmed, pointing out that the apple is currently being sold through Sainsbury's, Aldi, Lidl, Tesco, Asda and Morrisons.
There is a concerted push to get the Cameo name more widely recognised by consumers, and Barlow noted that Lidl has begun selling it in Cameo-branded bags, a move growers hope will be replicated by other supermarkets.