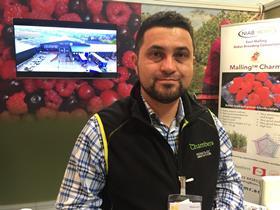 Kent-based berry business Chambers is considering growing soft fruit abroad for the first time in a bid to offer greater security of supply to a major UK supermarket.
The company, which already has an import business, is looking to partner with growers in Spain, Portugal and Morocco – as well as less common sources such as Zimbabwe and Kenya – so it can produce fruit itself in these countries.
The retail customer, which Chambers preferred not to name, is understood to have encouraged the producer to expand its operations and help avoid disruption to supply.
Through its imports arm, WB Chambers Imports, the company already sources berries from a host of countries including Spain, Morocco, Egypt, Chile, and Peru, allowing it to supply customers for 52 weeks a year.
However, increasingly unpredictable growing conditions are understood to have prompted the retailer to push for a more direct supply model, with Spain and Morocco currently experiencing a cold snap that has halved soft fruit yields at some farms.
"We're having quite a lot of conversations with growers in Zimbabwe and Kenya because maybe now we need to be looking at other countries as well," said Chambers' production director Salih Hodzhov.
"We're willing to do that because our customer is saying: here's the order, we'd like to buy your berries if you can produce them. For us, it's a big business opportunity and we're definitely willing to do it."
Referring to discussions with growers in Spain, Portugal and Morocco, he added: "We've found some growers that are already working and have spare land. We want to join forces with them and produce specifically for the UK market so that we can guarantee supply all year round."
The initial focus of Chambers' overseas operations will be on raspberries, Hodzhov said, explaining that Spain, Morocco and Portugal have been chosen because their respective seasons compliment one another.
"We'll grow from May until the end of October in the UK, and then we'll switch to Spain for a few months to get the volume," he said. "In December and January we'll move supply to Morocco, and then in March and April we'll grow in Portugal, before starting again in the UK."
Hodzhoz preferred not to name the overseas growers that Chambers has contacted, but he said the business wanted to work with growers "that actually work the land", rather than marketing companies.