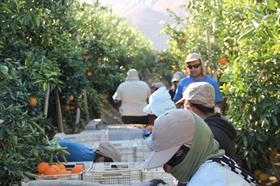 You could be forgiven for thinking the main challenge for Chile – the biggest exporter of fresh fruit in the southern hemisphere – would be to maintain the status quo. "Invest in new plantings and varieties, sure, but essentially keep pumping fruit into your key markets," is the advice one might give. Unfortunately, it's rarely that simple in the ever-evolving fresh produce trade, and there's a whole range of reasons why Chile cannot, and certainly is not, resting on its laurels.
Speak to Juan Enrique Ortúzar, chairman of the Chilean Citrus Committee, and he will tell you his country is facing three main challenges at the moment – but with them come opportunities. Firstly, labour has long been difficult to source, requiring growers to become more efficient to cope with fewer people coming to work in the fields; secondly, the Chilean peso has taken a pounding against the dollar in recent months, pushing up labour and production costs; and thirdly, opportunities in Asia and growing competition from rival export countries are making it increasingly important for Chile to diversify to new markets. If companies skirt around these hurdles rather than jumping over them, they risk getting left behind.
Rising to the challenge
For exporters and growers, the key to success is maintaining the competitiveness of Chile's fruit plantations, says Ortúzar. "Growers need to do this through high yields, efficient production and good use of labour," he stresses. "Chile is not a cheap country to produce in, and the exchange rate of the Chilean peso against the dollar has been going down. We need to think about how we can produce more efficiently, and that can involve anything from planting dwarf trees that are easy to pick to the mechanisation of every possible labour action."
Along with avocados, his sector is where most of Chile's export growth is coming from. Citrus exports are expected to reach 314,000 tonnes this season, according to the Chilean Citrus Committee – a 16 per cent increase on 2017 – and success in the category is being driven by major plantings of easy peelers, particularly the late mandarin variety Nadorcott. While citrus still lags behind grapes, apples, cherries and blueberries in terms of its total export value to Chile, it is the country's fastest-growing fruit export after avocados. The key driver: a continued rise in demand from Chile's main market for citrus, the US.
At present, around 80 per cent of Chile's citrus exports land on American shores, with Japan another major market for lemons specifically, but soon the balance could be about to shift. Along with the Chilean government, Asoex is in the process of negotiating market access to China, which would allow Chile to step up its citrus production considerably to satisfy booming demand for high-quality fruit among China's growing middle class.
Eastern promise
In terms of pushing up export volumes, it's no secret that Asia is where the big opportunities lie – not only in citrus, but in several other categories as well. "The big potential for us in future in terms of increasing export volumes is in Asia Pacific," says Ronald Bown, chairman of Chile's fruit export association Asoex. "We need to continue with our promotional activity in China – particularly in cherries, blueberries and avocados – but we're also always thinking about the long term and India is a very important possibility for us. If India has an economic development like China, it could be a big market for us in the next ten years."
In citrus, the opportunities are huge, with China's main southern hemisphere sources, South Africa and Australia, sending over 250,000t of citrus, mostly oranges and mandarins, to China in the 12 months to the end of October 2017. This was a 55 per cent increase on the previous year, according to Chinese customs data.
It should not be forgotten that in cherries, blueberries and avocados Chile is already firmly established in the Chinese market. Chile is currently the largest exporter of fresh fruit to China in the world and there appears to be lots of room for growth. Speaking at the PMA Fresh Connections: China conference in March, Mau Wah Liu, chairman of Joy Wing Mau Group and Lu Fangxiao, president of the China Fruit Marketing Association, predicted a "golden era" of growth and development for China's fruit market over the next decade.
Marketing magic
One product that Chile continues to push hard in China is cherries, with 92 per cent of the country's cherry market served by Chile during the southern hemisphere season. Returning for its second year in 2017, the campaign helped deliver a 20 per cent increase in weekly consumption, according to Asoex, and weekly spending on Chilean cherries in cities targeted by the campaign grew 27 per cent to US$15.50.
Under the slogan 'Enjoy your red moment', the Chilean Cherry Committee sought to highlight the fruit's health attributes and encourage the consumption of cherries at any time, for any occasion. However, Asoex marketing manager Ignacio Caballero underlines the continuing importance of the Chinese New Year sales period, saying that it's crucial to reach the market before this time.
Another product where the timing of Chile's arrival on the market could be key is apples, with Donald Trump's trade war with China looking likely to affect Chilean apple exporters this season. US tariffs on steel and aluminium imports have resulted in retaliatory 15 per cent duties from China on a raft of American fruits and nuts (including apples, cherries and walnuts). This could see American growers spread more of their apple volume to some of Chile's markets this season.
Trade warfare
"In a [trade] war nobody gains, and there are also side effects that you don't expect," says Bown. "We don't know how the Chinese market will react – maybe they can absorb that increase in duty… but if the US needs to sell those apples either inside its own market, or in Europe or Latin America, there will be a problem – prices will be lower."
To guard against this eventuality some packhouses are trying to process their apples quicker than usual this year, to reach the Latin American market before the US does. "Generally, we finish sorting and packing our apples at the end of January," says Patricia Maraboli, operations manager at one of Chile's largest packing facilities. "This season we're hoping to finish processing them by the end of November."
Unfortunately, apples aren't the only Chilean product affected by the current instability in global trade flows. Chile's walnuts were slapped with a 100 per cent tariff in June (up from 30 per cent) after India hit the US with the same duties rise amid its own trade war with Trump.
In terms of Chile's direct trade relationship with America, the director of export promotions body ProChile, Jorge O'Ryan Schütz, says his country "hasn't had any problems yet regarding our shipments to the United States". Nevertheless, the organisation is "keeping a very close eye" on America's relationships with other countries such as China, Canada, Russia, Mexico, Turkey and the European Union, Schütz says. As an extra precaution, the Directorate of International Economic Relations at Chile's Foreign Affairs Ministry also held a public-private roundtable last month to set up a mechanism monitoring the effects that could provoke a trade war between the US and Chile.
Capitalising on kiwis
Fortunately, in kiwis tariff changes have worked in Chile's favour, with India halving import duties, resulting in a better price for consumers. The Chilean Kiwifruit Committee is looking to increase exports and drive up consumption in the country, launching its first-ever promotional campaign for the fruit in India this year. The focus of the campaign – which will see kiwis become the first Chilean fruit to be advertised on India's largest e-commerce platform, BigBasket – is to promote the fruit's health benefits and tap into India's expanding middle class.
At present New Zealand kiwi giant Zespri accounts for the majority of supply to the country but Elizabeth Köhler, general coordinator of the Chilean Kiwifruit Committee, says Indian importers are looking for a cheaper product and more flexible suppliers.
As Chile looks to expand further into Asia, campaigns like this one – and the lucrative promotional drive in China for cherries – will be key if Chile wants to stay ahead of its southern hemisphere competitors.