New day-neutral varieties bred by Italian Consortium of Nurseries are an increasingly popular choice for Britain's main supermarkets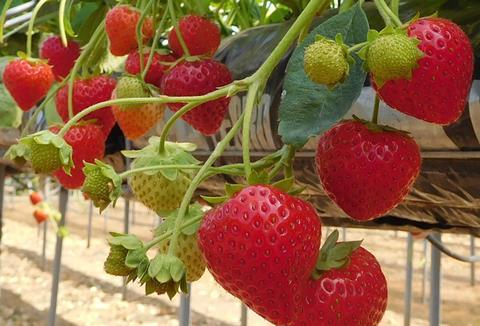 The Italian Consortium of Nurseries, CIV, has reported that its new day-neutral strawberry varieties are gaining shelf space in the premium tier at UK retailers.
Showcasing its leading varieties at the Fruit Focus trade show in Kent, Marco Bertolazzi, CIV's head of business development, highlighted the CIV breeding programme's leading varieties for production in Northern Europe (the Netherlands, Belgium, the UK and Scandinavia) as well as further south (northern Italy, central Europe and eastern Europe).
In terms of day-neutral production, Bertolazzi said the Murano strawberry remains the "reference variety" for the UK market, while new varieties Ania, Edwina and Cantus are being sold in the premium segment of the main UK supermarkets.
According to CIV, Ania stands out for its organoleptic properties and its typical wild strawberry aroma; Cantus has high productivity and medium-to-large fruits with excellent shelf life; and Edwina is innovative due to its little branched flower stems, which guarantee a good size and reduce harvesting costs. It also has excellent shelf life.
When it comes to the cultivation of June-bearing strawberries with high chilling requirements, CIV offers four main varieties: Clery, Lycia, Giusy and Klodia.
The company said Clery is a historic early-ripening variety which continues to hold significant market share in France and Eastern Europe; Lycia has a long on-plant ripe life and fruits of good size and attractive shape; Giusy produces fruit with an elongated conical shape and a bright orange-red colour; and Klodia is early-ripening and enjoys constant production.
CIV exhibited at Fruit Focus alongside Idris Consulting, its exclusive partner for the development and management of CIV varieties in northern Europe. It was an opportunity to meet producers, retailers and other industry professionals in the UK and to explain CIV's latest varietal innovations.
In the days leading up to Fruit Focus CIV and Idris Consulting were also able to meet producers, nurseries and various operators in the sector who said there was an "increasingly pressing need to ensure greater control of the quality of the fruits of the new CIV varieties arriving in English supermarkets".
"This will be the commitment and direction that the CIV and its partners will take in the coming months," the consortium said.