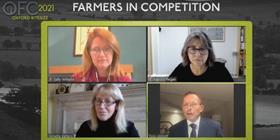 Minette Batters, president of the National Farmers Union (NFU), clashed with former Australian prime minister and UK trade adviser Tony Abbott during last week's Oxford Farming Conference (OFC) Bitesize webinar on the future of UK agriculture and trade after Brexit.
Abbot said that although it was "right and proper to say that food sold in Britain has to meet particular standards, it is not up to Britain to tell other countries how to meet those standards".
"I'm all-in favour for global cooperation for standards," he said, "but if we try to do this through trade deals, there won't be any trade deals."
Batters argued that a new approach was needed to protect the UK countryside. "Politically, we have been disconnected from our food systems and we have been focused on ever-cheaper food, rather than the values that need to drive food production," she said. "It's about changing the conversation, being radical and aiming up."
With the announcement of a Trade and Agriculture Commission to safeguard UK interests, Batters noted that the public were demanding fairness and transparency in future trade deals, with over 1m people signing the NFU's food standards petition.
"What it says is that people want our trade to ultimately be fair and not undermine our farmers," she said. "This, globally, has to be about farmers collaborating. I passionately believe that this is our time to work together."
The election of Joe Biden as US president could mean that negotiations on a US trade deal go back to square one, although UK environment secretary George Eustice called it "too early to tell".
"It may be that obviously the time that it takes for a new administration to take root means there's some slippage in time, but we'll see once they're properly in place," he said.
Biden's concerns over the UK's proposal to unilaterally amend the withdrawal agreement are already documented, as are the US president-elect's possible impact on the Good Friday Agreement should a hard border emerge between Ireland and Northern Ireland.
Eustice contested the notion that the government was breaking its commitment to carry out some checks on goods between Northern Ireland and the rest of the UK in order to keep the Irish border open, insisting it was "committed to the spirit of the withdrawal agreement".
"Northern Ireland officials are working on the facilities that will be needed to do those checks," he said, "particularly on agri-foods goods, as they enter Northern Ireland. A lot of work is being done as well on the customs procedures that will be needed for goods at risk of entering the EU market."
As the EU's chief negotiator, Michel Barnier, arrived in London this week to continue Brexit negotiations, UK prime minister Boris Johnson struck an optimistic note, stating that a deal was "there to be done".