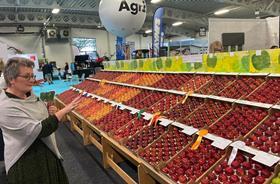 Clock House Farm in Kent has been named Supreme Champion at the National Fruit Show in Kent, claiming the award for the first time.
The fruit grower picked up the trophy after scoring 99 points in Class 11 Braeburn, and a tray of the company's fruit will be presented to the Lord Mayor by the Fruiterers' Company next week, as well as to the Queen and Prime Minister.
Other notable winners at the 88th National Fruit Show, which returned as an in-person event this week, included Bardsley England, JR Baxter and Son and Mallions Farm, packed by Katie Langridge. All picked up multiple awards.
First-time entrant Braiseworth won Class 18.
Challenging season for growers
The judges praised the quality of the entries in a season that worked against growers, with good colour, conformity and flavour reported.
The judging system for topfruit was overhauled this year to take into account the challenges of Covid, with the new system seeing a reduced number of judges completing their scoring in just half a day by evaluating a whole tray at a time.
It was a bittersweet week for RD Apple Growers. The firm's fruit brought it success at the National Fruit Show, but NFS executive chair Sarah Calcutt revealed the business is quitting due to the unsustainable input cost pressure on small growers.
The various production challenges around Covid, together with labour and input cost increases, meant there was a 25 per cent reduction in the number of entries to the various competitions at the show, but judges still stressed how impressed they were with the quality of the fruit.