Agreement reached to extend partnership by three years and expand store coverage in cities such as Nottingham, Liverpool, Swansea and Southampton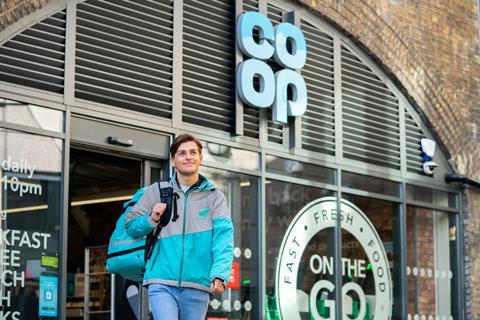 Co-op and Deliveroo have extended their delivery partnership for a further three years, with plans to cover up to 1,400 of the convenience retailer's stores by 2022.
The pair first joined forces in 2017, with quick commerce since becoming a channel in its own right. Co-op is one of Deliveroo's largest grocery partnerships.
Following the three-year contract renewal, plans have been confirmed for 110 additional Co-op stores to become available this year via Deliveroo's fleet of bikes, scooters, cars and electric vehicles.
This will enable millions of households across the country to order from Co-op, choosing from around 2,300 items.
Co-op said the deliveries can help to cut congestion and unnecessary short car journeys, with the most popular items ordered from Co-op including bananas, cucumbers and strawberries, as well as milk, chicken, cola and chocolate buttons.
Co-op's e-commerce director Chris Conway said: "Co-op is committed to exploring new and innovative ways to serve our members and customers. They lead busy lives and so ease, speed and convenience is at the heart of our approach.
"We are delighted to be able to expand our partnership with Deliveroo. As a convenience retailer, the ability to come into stores will always be important to customers, but we also know that shoppers want flexible and convenient options online, and so we are focused on providing what our customers want and need, however and wherever they choose to shop with us."
Following a successful trial, Deliveroo Signature is also being rolled out across hundreds of Co-op stores. This means Deliveroo's UK-wide network of riders is also available to deliver orders placed directly with Co-op through its own online shop, giving Co-op customers greater choice and availability of delivery slots.