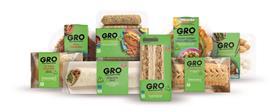 The Co-op has launched a new meat-free brand alongside major online expansion plans for 2020.
Co-op's new vegan brand "Gro" hits the shelves this month and will be available in up to 6000 Co-op stores, featuring 35 meat-free products, making it the largest single supermarket roll-out of vegan products, according the Co-op.
The move follows the retailer's recent Ethical Consumerism report which revealed the vegan market has now topped £1 billion for the first time, having more than doubled since 1999.
The Co-op said vegetarian product sales have risen by over 12 per cent in the past 12 months. The Gro range also focuses on convenience, seen by many as a major growth market, with Co-op utilising innovation in plant-based meals for its new range.
The Co-op's online same-day delivery services will also be extended to reach almost 100 towns and cities, served by 650Co-opstores. The rollout includes services fromCo-op's own dedicated online shop, known as shop.coop.co.uk, which uses low emissions transport including eco-friendly bikes.
In January 2020, Brighton, Bournemouth, and Southampton will be among the first new cities to get the service, which is currently only available in London and Manchester. In all,Co-op's online shop will available from around 250 stores.
Jo Whitfield, CEO at Co-opFood, said:"AtCo-op, we make it easier to get products when you need them and we stay close to our customers changing requirements.
"We have to provide fantastic products and services with strong ethics and a purposeful focus on convenience. Our new vegan range taps into the latest consumer trends and our online services meet the growing appetite for fast home deliveries."
The supermarket will also be expanding its partnership with Deliveroo to 400 stores in around 100 major towns and cities.