NFU president Minette Batters describes Defra secretary conference comments on UK supply crisis as "surreal" and "out of touch"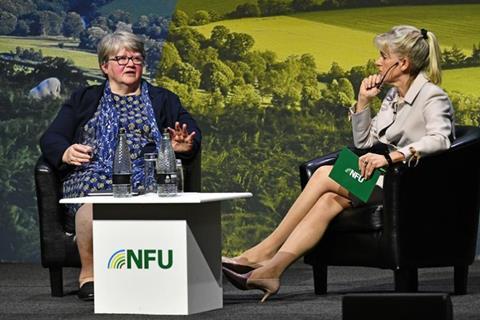 Defra secretary Thérèse Coffey's grip on the reality of the UK's fresh produce supply situation is "really out of touch", according to NFU president Minette Batters.
Speaking to The Grocer, Batters said Coffey "lost the room with her comments" when she dismissed the current fruit and veg supply crisis, stating "we can't control the weather in Spain", when addressing UK farmers and growers at the NFU conference in Birmingham on Wednesday (22 February).
In parliamentary questions on Thursday, Coffey stated the UK had a "highly resilient food supply chain and is well equipped to deal with situations that have the potential to cause disruption". And she later suggested British shoppers should "cherish the specialisms that we have in this country" by adopting seasonal veg such as turnips instead of salad in winter.
In an interview with The Grocer, Batters said the Defra secretary's comments were "really out of touch" and that her performance at the NFU conference was "surreal".
The NFU president – who said at the conference the clock was ticking for the government to back farming – added Westminster was too "fixated on automation" when presented with calls to engage on other issues such as energy, returns and labour.
She also asked whether government cared about expected falls in self-sufficiency, with NFU data showing growers were expecting a further 4.4 per cent fall in production in 2023.
"The sector is just being mothballed," Batters told The Grocer. "That era of self-sufficiency has gone. [The UK has a] great climate but there is no political ambition to maintain a level of self-sufficiency.
"They've tied the industry down. The big growers are moving their business abroad. The smaller ones have no idea what their storage costs are going to be. They don't know what their contractual relations will be. And they've paid a massive cost," she added.
"And why are we not getting energy support for protected crops? Who made the case for the Royal Botanical Gardens? Not Defra that's for sure," Batters said. "Do we want protected supply? Relying on imports is pretty dangerous."