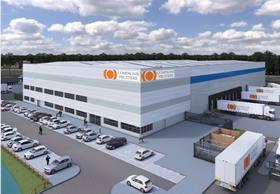 Banana supplier Compagnie Fruitière UK has announced plans to build a new ripening centre for the fruit at DP World London Gateway.
The facility will be constructed at the Logistics Park, adjacent to the port itself, and will replace the company's existing operation in Dartford.
Compagnie Fruitiere said the new portside location "will help deliver the optimum supply chain, driving efficiency within the ripening process and using technology to help future-proof the business".
Construction will get underway in 2020, with the goal of making the facility fullyoperational in 2021.
"We are very pleased to be working in partnership with DP World to deliver this exciting project and embark on the next stage of our journey at Compagnie Fruitière UK," said Keith Sadler, Compagnie Fruitière's managing director.
"The location of the site at port, combined with the use of technology to deliver efficiency and enhance freshness, will strengthen our reputation for excellent quality and service with our customers."
DP London Gateway is billed as "the UK's most integrated logistics hub" and comprises a state-of-the-art deep-sea port and rail terminal on an expansive land bank.
Oliver Treneman, DP World's Logistics Park development director, said:"We are delighted that Compagnie Fruitière has decided to set up this new facility with us, becoming the latest organisation to locate its business at our fast-growing, trade-enabling hub.'
He added that DP World would help ensure construction of the new facility "is of the highest quality".