HRH The Countess of Wessex led celebrations for the organisation's 30th anniversary in Warwickshire
LEAF's Honorary President, HRH The Countess of Wessex, led festivities to celebrate the environmental organisation's 30th anniversary at an event at Ragley Hall, Warwickshire, last week (4 May).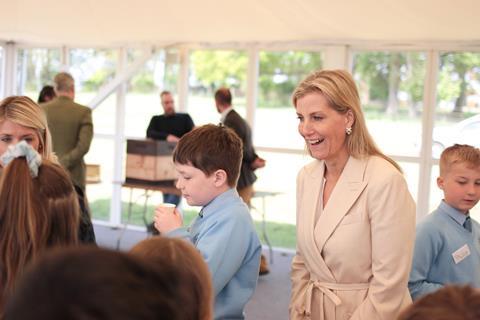 The day began with HRH meeting with teachers and children from Our Lady's Catholic Primary School in Alcester, a LEAF Education Demonstration School, and culminated in a dinner which The Countess attended to celebrate LEAF's achievements over the last three decades and highlight key objectives from its ambitious ten-year strategy.
The school event saw children participating in a range of activities including sessions on dairy and dairy milk alternatives, and tasting LEAF Marque certified produce, all designed to engage them with sustainable food production and empower them as consumers of the future. The Countess joined the children in planting a tree to commemorate LEAF's 30thanniversary and as part of the Ragley Estate's sustainable, historic parkland management plan.
Her Royal Highness also toured Ragley Home Farm – a LEAF Demonstration Farm and LEAF Marque certified farm – to see examples of sustainable farming in practice. Farm Manager, Hamish Stewart gave an overview of integrated livestock management and its role in regenerative agriculture, explained the cropping diversity and the importance of landscape protection alongside historic parkland restoration as well as engaging society in farming.
From its humble beginnings in 1991, LEAF is now a leading global organisation, working with growers in 19 countries through its internationally recognised environmental assurance system, LEAF Marque, which is supported by major retailers and food brands including Waitrose, Tesco, Lidl, Jordans and Pepsico. In the UK alone some 48 per cent of UK produced fruit and vegetables are LEAF Marque certified.
LEAF has also built up a UK wide network of Demonstration Farms and Innovation Centres which are leading the way in the advancement of more climate positive research and farming practice. In addition, its education and outreach work, delivered through LEAF Education and LEAF Open Farm Sunday have connected millions of people with farming and food production.
Commenting on LEAF's 30 year anniversary, chief executive Caroline Drummond, said: "From the very outset LEAF's practical, farmer-led focus has ensured that we have remained true to our founding principles. Our drive and determination has strengthened and become more impactful. We have always been a 'can-do' collective, built on partnerships with farmers and organisations across the food supply chain.
"As we embark on our fourth decade and as agriculture enters an exciting new era, we remain as committed as ever to the bold, ambitious, and innovative approaches to advancing more sustainable global farming and food systems. But we cannot act alone. The partnerships LEAF has built over the last thirty years will be key as we navigate our next decade. I pay tribute to and thank everyone who has played a part in LEAF's journey. Together, we will continue to raise the sustainable farming bar, for the good of our planet and future generations."
Looking ahead, LEAF has set out an ambitious ten-year strategy to 2031, building on the last 30 years and advancing its work in developing and promoting more sustainable agriculture through IFM. Through its three key workstreams, Knowledge Generation and Exchange, Market Opportunities and Educating & Engaging Society, with the themes of Health, Diversity and Enrichment running through everything it does. LEAF is helping to transform farming and food systems as well as connecting young people and society at large with where their food comes from, how it is grown and the critical role farming plays in addressing climate change challenges.
Key achievements over the past 30 years include:
Being recognised as a leading organisation promoting more sustainable farming delivered through Integrated Farm Management (IFM) – and strong regenerative and nature-based solution outcomes
An established global environmental assurance system – LEAF Marque, which now works with growers in 19 countries. In the UK, some 48% of fruit and veg are now grown on LEAF Marque certified businesses. Waitrose & Partners was the first UK supermarket to support its fruit and veg growers to become LEAF Marque certified – its commitment remains to this day. LEAF Marque is on a strong growth trajectory, working with leading retailers including Waitrose, Tesco, Lidl UK, Pepsico and Jordans Cereals.
Establishing a UK wide network of Demonstration Farmers and Innovation Centres – which currently totals 52. The LEAF Network works to accelerate knowledge and uptake of more sustainable farming, delivered through IFM, ensuring that new practices are evidenced by rigorous scientific research
Developing a new approach to engaging with farmers on focused issues including regenerative agriculture and net carbon zero, biodiversity, through Beacons of Excellence
Working with research institutes through on farm projects, the development of management tools, such as the LEAF Sustainability Farm Review, podcasts and videos, Horizon 2020 and Horizon Europe research projects supporting peer-to-peer learning
Engaging consumers with farmers, the environment, and the rich story behind our food. LEAF has been managing LEAF Open Farm Sunday since 2006 and has welcomed almost 300,000 visitors to farms to see how their food is produced and what farmers are doing to farm sustainably
LEAF Education was formed in 2017 when it merged with FACE (Farming and Countryside Education), working with hundreds of students, teachers and farmers every year to inspire and motivate future generations, through experiential learning, about food production, farming and the environment. In 2021 it reported its highest levels of engagement to date: 74,044 children worked with, 11 Demonstration Schools, 63,000+ hours working with young people. LEAF Education also runs Farmer Time which brings farming directly into the classroom