Leading European packaging company Coveris invests over £1.5m to expand its linerless label manufacturing capabilities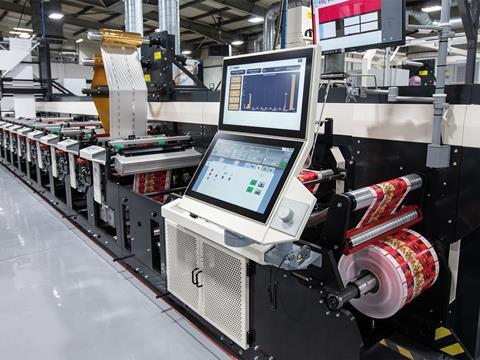 Coveris' dedicated linerless label facility in Spalding, Lincolnshire, has expanded its production capacity thanks to an investment in new machinery in a bid to further improve manufacturing efficiencies and support its 'no waste' sustainability strategy.
Coveris Spalding, the world's number one producer of linerless labels, has spent over £1.5m on flexographic wide-web presses featuring the latest print technologies, the firm announced today (13 December).
Already manufacturing over one billion linerless labels each year for UK and European FMCG sectors, this latest investment delivers increased output and supports the Lincolnshire-based facility's growth plans in existing and diversified markets, Coveris said.
The new MPS flexographic presses, which became operational in September and November 2022, are more energy efficient and feature E-Sleeve technology for enhanced accuracy, improved set-up speeds and reduction in production waste, Coveris said.
Linerless labels are characterised by their non-utilisation of carrier backing paper, meaning reel weight is significantly reduced by up to 40% compared to self-adhesive alternatives, allowing more labels per reel, less waste and fewer changeovers, the firm added.
Commenting on the latest investment, Nigel Hewitt, Coveris' BU paper sales director said: "The addition of unique wide web capabilities in our world-leading, dedicated linerless labels facility is a significant investment.
"We aim to stay at the forefront of linerless technologies, innovation and quality alongside a sustainable operational model. With this investment, our customers benefit from improved linerless capacity and the newest print technologies, whilst we are also targeting accelerated growth outside of our core meat, fish, poultry and convenience markets."