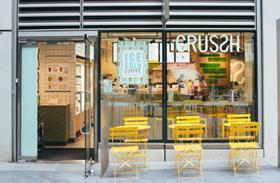 London health food chain Crussh has turned one of its stores vegan for Veganuary, a UK campaign encouraging people to try out a plant-based diet.
Opening on 3 January the pop-up on Broadwick Street in Soho will serve over 70 vegan recipes, incorporating meat substitutes such as jackfruit, a courgette and lime cake and the high street's first vegan feta 'cheese'.
Crussh said its aim is to highlight how plant-based food can be "simple and really delicious", while encouraging people to consider reducing their meat intake.
The pop-up will also act as a trial for the business, indicating whether turning some stores vegan in future could prove a sustainable business model.
Head of marketing Helen Harrison said:"We're really excited to be turning our Soho store vegan for the month of January. It's something we've talked about for a while and it felt like the right time to give it a go.
"One of the biggest trends we've seen this year is the growth in veganism and we know that moving to a more plant-based diet can have such a positive impact on both the health of individuals and the planet."
She added: "Creating the menu was far easier than we initially thought, as we already have a wide vegan range across the business. There are of course some new additions to the menu, such as six new smoothies, all made with a plant-based milk, as well as a new vegan cake range, including a carrot cake and courgette and lime cake.
"Re-designing the store has been a lot of fun and we can't wait to hear what people think. And if people love it, there's no reason why it couldn't remain vegan permanently – it's really up to our customers."
The vegan store forms part of Crussh's 'Powered by Plants' campaign, an initiative that will see eight new vegan products launch across all of its 35 branches in London and the surrounding area.
Continuing with the plant-based theme, the vegan pop-up will have plants hanging from its walls and ceilings. In addition, London-based illustrator Mark Harrison has been commissioned to create a series of illustrations celebrating the 'power of plants'. These are being used in all Crussh stores for the next few months.
Highlights of the fully plant-based menu at Crussh Broadwick Street will include:
Protein Gains smoothie (from £4)
Soya milk, raspberries, tofu, banana, agave and a plant protein booster.
Vegan 'cheese', mushroom and chestnut sourdough spelt toastie (£4.50)
Sourdough spelt toastie with vegan 'cheese', mushroom and porcini tapenade, roasted chestnuts and spinach.
Black rice and avocado vegan sushi (£4.95)
Avocado, black sushi rice, shredded carrot, spinach and nori seaweed.
Courgette and lime cake (£3)
Vegan courgette, pistachio & lime cake with a vegan 'cream cheese' frosting.
Crussh pointed out that it is already a destination for vegans, with a food and drink range at its regular stores that is over 45 per cent vegan (up from 22 per cent in January 2017) and 70 per cent vegetarian.
The chain currently sells more than 50 vegan products at all of its outlets, including best-sellers such as the Jackfruit Tinga Fit Bowl (served with sweet potato mash, guacamole and fresh slaw) and an avocado, red pepper and cashew nut tapenade wrap.