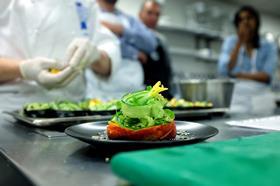 Cucumbers and their use in cooking were in the spotlight at a recent masterclass held at prestigious cookery school Le Cordon Bleu in London.
Organised by the Cucumber Growers' Association (CGA), in partnership with Great British Chefs, the event was attended by development chefs, bloggers and journalists. It is part of an ongoing tie-up between the two bodies, and aimed to promote how cucumbers can be used in cooking beyond only in salads.
Development chefs from Pret a Manger and Reynolds were at the event, but the CGA said it was "disappointed" that no retail customers took up their invites to the event.
The evening saw demonstrations of some recipes including cucumbers, while food bloggers ensured it was covered and promoted through social media.
Host Dominic Chapman, head chef at The Beehive in Maidenhead, said: "Cucumbers are great for cooking with – just cut them into cubes or batons then throw them into a stir-fry or serve with pulses like lentils.
"They add crunch, flavour and colour. You can even caramelise cucumber; cut it into a square and then just stick it onto a hot grill or pan. It gets this wonderful seared edge that adds plenty of texture. They're not just for salads."