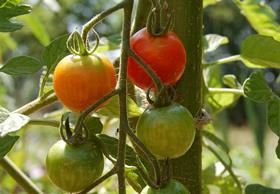 Soaring energy and labour costs threaten the UK's food security, farmers have warned, as pressure grows on ministers to find an urgent resolution to a set of deepening crises facing British businesses.
The National Farmers' Union said British farms were in an "even more precarious position" than they had been in the early days of the pandemic when close to a third of the food industry was forced to close down overnight.
"We have a very real risk now of exporting parts of our farming industry overseas and reducing the capacity of UK agriculture to feed the country," said the NFU's vice president, Tom Bradshaw.
The warning came as Kwasi Kwarteng, the business secretary submitted a bid to the Treasury calling for emergency support for energy-intensive industries.
Farming is not understood to included in the package, despite the fact that it faces severe pressure on costs. Some tomato and cucumber growers have already shut down production because they cannot afford to heat greenhouses, while potato farmers are struggling to absorb massive increases in the cost of cold storage, the NFU said.
In the Lea Valley, known as the cucumber capital of Britain, about 10 per cent grower members didn't plant a third cucumber crop in July due to a lack of workers and increasing energy prices, Lee Stiles, secretary of the Lea Valley Growers Association tells FPJ.
'They either turned the gas off and picked as long as they could from the second crop or simply stopped growing,' he says.
In addition, most of the association's sweet pepper growing members couldn't source enough workers and therefore fruit was left unpicked and grew larger than supermarket specification, Stiles adds.
'The majority of Lea Valley growers use natural gas to heat their greenhouses and capture Co2, this is either stand alone or with renewable energies such as CHP, Biomass or Anaerobic Digesters, which, has required significant investment over the last decade without any increase in the price of the produce grown,' he tells FPJ.
'Around 30 per cent of members have indicated that they will not be planting cucumbers in January due to the uncertainty surrounding the availability of workers and the high gas price. The majority of our edible growers will wait until late November before deciding whether to order their young plants from British or Dutch propagators, who will be in the same position regarding the energy prices.
'It will simply be uneconomical to produce British glasshouse grown food without an accessible workforce and whilst the energy price remains so high,' says Stiles.
'It is hard to highlight any positives at the moment when it looks like a massive reduction in self sufficiency next year. This is the worst position I have seen the British glasshouse growing sector in over a decade.'
The Lea Valley, often described as the Cucumber Capital of Britain or London's Salad Bowl, produces around 75 per cent of Britain's cucumbers, sweet peppers and aubergines.
Spanning some 370 acres of glasshouses situated just 20 miles from Piccadilly Circus in Central London, Lea Valley growers also produce tomatoes, lettuce, herbs and flowers.