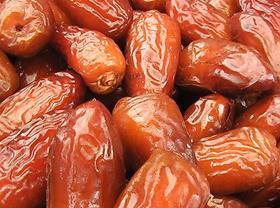 Date imports into the UK are on the rise thanks to healthy eating and cultural trends, reports a leading distributor.
Spalding-headquartered fruit business JO Sims reports that its date imports have risen by more than 300 per cent over the last ten years, and within the last three months has announced two new supply sources in order to keep up with growing demand.
Ramadan – the ninth month of the Islamic calendar – drives an annual surge in UK demand for dates, which are typically used to break the fast. And this year (13 April to 12 May) was no exception, with retailers taking the opportunity to offer a wide selection of date products at this time, JO Sims said.
Christmas is another period when date consumption spikes, typically among older consumers (65+), the firm said.
Yet the distributor said the most interesting rise in date purchases was evident in the 28-34 UK consumer age group, which increased spending on dates by 13 per cent between 2019 and 2020 according to Kantar figures.
JO Sims national account manager Lottie Nicholls attributes this growth to increased retail availability of smaller, on-the-go date packs; increased awareness of refined sugar and the alternatives available for baking and children's snacks; and a rise in competitive sport.
"With a larger number of people recognising the link between food and fitness, and the rise in competitive sports, there has been an increase in demand of those looking for a quick energy fix to ensure peak performance," she said.
JO Sims said the rising popularity of dates looks set to continue. "Food retailers should prepare for this continued growth and understand the increasing seasonal demands of our multi-cultural nation," Nicholls said.
"When developing new food products, dates are an obvious ingredient choice for many reasons. It is a relatively low cost, clean label, naturally sweet, refuelling ingredient; creating endless permissibly indulgent product possibilities."
Based in Spalding Lincolnshire, JO Sims is one of the UK's leading suppliers of fresh fruit, fruit ingredients and healthy snacks.
The company farms over 1,000 acres of cherry and apple orchards worldwide and is the UK's largest supplier of cranberries and wild blueberries.
Since it was founded in 1896 by Josiah Oliver Sims, the business has built a series of long lasting relationships with leading quality growers and processors around the world, to bring a wide variety of fresh fruit and innovative fruit ingredient solutions to the UK markets.