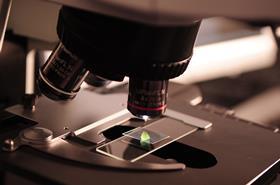 The government today (29 September) announced new plans to 'unlock the power of gene editing' to help farmers grow 'more resistant, more nutriious and more productive crops'.
In response to a three-month gene-editing consultation at the start of this year, Environment Secretary George Eustice will remove the rules around the research and development of genetically edited plants, marking the first major shift away from European Union laws that have prohibited gene editing for decades amid fears that it is unsafe.
Gene editing involves replacing genes that govern certain traits – such as water dependency, disease resistance and nutrition – with better-functioning ones from the same species.
It has the potential to make crops 'much more nutritious and resistant to pests and diseases, as well as more productive and beneficial to the environment', Defra said in a statement.
Officials insist that gene editing (GE) is different to genetic modification (GM), and that it promotes genetic changes that could have "occurred naturally or could have been a result of traditional breeding methods".
Defra said the initial research will focus on plants, though it is understood that in future the government is eager to explore the use of GE in livestock.
Announcing the move, Eustice said: "Gene editing has the ability to harness the genetic resources that nature has provided. It is a tool that could help us in order to tackle some of the biggest challenges that we face – around food-security, climate change and biodiversity loss."
Gideon Henderson, Defra chief scientific advisor, said: "These tools enable us to harness the richness of natural variation to build better crops, speeding up a process humans have done through breeding for hundreds of years.
"There are exciting opportunities to improve the environment, and we can also produce new varieties that are healthier to eat, and more resistant to climate change."
Responding to the government announcement, NFU Vice President Tom Bradshaw said it was very encouraging to see the government's view that new precision breeding techniques, such as gene editing, have the potential to offer huge benefits to UK farming, the environment and the public, and will be vital in helping it achieve its climate change net zero ambition.
"The NFU will be examining today's announcement in detail and will work with Defra to ensure the right legislative system is in place, not only to drive research but also to provide a route to market for improved varieties and breeds,' he said. 'We also urge government to provide the necessary researchers and companies with a clear timetable. The government will also need to work closely with the devolved administrations to deliver something which works for the whole of the UK.'
UK crop science organisation NIAB also welcomedtoday's announcement.NIAB chief executive Dr Tina Barsbysaid it sent an important signal that Britain is adopting a more pro-science approach outside the EU, aligning its rules with other countries such as Japan, Canada, Argentina, Brazil and Australia, and boosting prospects for inward investment and international research collaboration given the UK's strengths in genetic science.

"Innovation in plant breeding will be the single most important factor in helping global food supplies keep pace with a growing world population in the face of climate change and pressure on finite natural resources of land, water, energy and biodiversity,' she said.

"By accelerating the development of improved disease or pest resistance, making crops more resilient to stress, or adapting crops to perform better under low-input conditions, these new breeding tools have as much, if not more, to offer low-input systems such as organic farming.
'I know many organic farmers are not comfortable with using copper-based fungicides, or relying on non-organic seeds to give organic crops a healthy start. Gene editing can offer alternative solutions,' Dr Barsby said. 'I would therefore encourage grass-roots organic farmers to take a stand against the doctrinal opposition of their certifying bodies, and urge them to keep an open mind on the potential for these technologies to make low-input farming a more sustainable option, environmentally and economically.'
Indeed, UK organic certifying body the Soil Association claims 'sweeping away regulations around genetic engineering' could spell disaster for sustainable farming in the UK.
'A high-tech free-for-all won't help,' Joanna Lewis, Soil Association director of policy and strategy, said: "What will help is a reversal of the historic lack of investment in agroecological, nature-friendly methods and farmer-led technology, as highlighted by the National Food Strategy.
"There is a key difference with gene edited organisms that the government continue to ignore – they can be heavily patented and play heavily towards corporate interests. What is to stop profit-driven interests overpowering the hopes that the government have for the technology? How do we avoid farmers losing even more control of their crops seeds? How do we prevent crops being designed to sell more pesticides, not less?
"Changing the DNA of crops and animals to make them temporarily immune to disease is not a long-term solution; we should be investing in solutions that deal with the cause of disease and pests in the first place, including a lack of crop diversity, the decline in beneficial insects, and animal overcrowding. We must increase soil carbon, wildlife and animal welfare on farms to solve the climate and nature crises, and protect human health,' she added.
"The Soil Association is calling for a commitment to better, not weaker, regulation on genetic research and more support for farmers to adopt agroecological methods that support nature, as called for in the National Food Strategy.
"At a minimum, UK shoppers should be reassured that other products will not be cross-contaminated by gene-editing trials."