Strawberry-harvesting-robot manufacturer Dogtooth Technologies stressed UK growers' urgent need for labour when it showed its intelligent machines to Boris Johnson
Intelligent robot developer Dogtooth Technologies demonstrated its latest automated strawberry picker to Prime Minister Boris Johnson at a UK food export event held in Downing Street last week (9 May), but stressed the urgent need for more seasonal labour if British growers are to remain viable.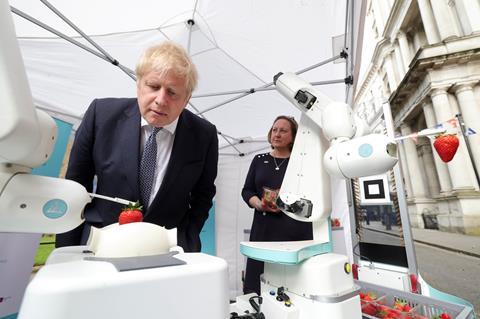 Dogtooth was one of ten small, independent British companies – along with Scottish vertical farming businesss IGS and agri-robotics business the Small Robot Company – to participate in the Institute of Export & International Trade's 'Spring Showcase', attended by several members of the cabinet including the prime minister and Defra's George Eustice and Victoria Prentis last Monday.
Commenting on the event, Dogtooth CEO, Dr Duncan Robertson said: "We were delighted to show one of our Gen3 robots to the prime minister himself, and to give him a punnet of delicious strawberries produced by one of our customers, Hugh Lowe Farms.
"In conjunction with British Summer Fruits, we were also pleased to help communicate the message that the innovativeness of Britain's fruit growers means that British agri-robotics business like Dogtooth are well placed to dominate a £20bn export market.
"However, harvest automation alone will eliminate at most 50 per cent of the fruit industry's labour requirement, and our customers still need a dependable supply of human labour if they are to be in a position to invest in robotic automation. Therefore, our industry needs engagement with the UK Home Office and DEFRA to provide clarity over the future of seasonal agricultural worker visas and financial support to help accelerate the adoption of robotic automation."
Speaking at the event, Prime Minister Johnson said: "Putting the best of British business on the global market is a vital part of growing our economy – with exports bringing £640.3 billion last year alone.