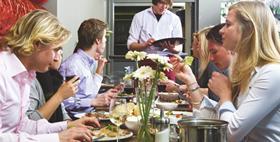 The eating-out sector must join the fight to reduce childhood obesity and encourage healthy eating alongside retailers, government and food producers.
That's according to director general of the Food and Drink Federation, Ian Wright, who was speaking on a panel to discuss tackling the obesity crisis at today's Food Matters Live conference.
Wright said it's vital that the foodservice sector is engaged as it sets the norm in portion sizing, food fashions and takes a significant proportion of the nation's food budget.
"The one dog that is not barking in this debate on obesity is the out-of-home sector. There is a huge issue about involving our out-of-home sector, not because they don't want but because it's so fragmented. It's a real effort to reach them all and bring them into the debate,' he said.
Not ignoring the role that food manufacturers and retailers must play in tackling obesity, Wright said that, despite the fact government did not regulate junk food advertising to children under its new Childhood Obesity Strategy, FDF members have taken steps to self-policing.
"We have agreed to stop all advertising of high fat food to the under 16s from next year – it is an enormous step for big multinational companies. It's a huge step to take voluntarily. We are also looking at concerns around promotion, sponsorship and how the industry positions itself."
Although this won't come from the entire food industry, Wright said FDF members, who represent around 80 per cent of the food manufacturing sector, will lead the way.
Responding to a question by chair and Radio 4 host Anita Anand on why companies would make changes that could impact profit, Wright added: "The only way you will ever change anything when profit is involved is when consumers are asking for it. Reducing sugar is in line with consumer demand, you won't find anyone who wants to make a profit ignoring that."
Other panelists in the session included shadow health minister Sharon Hodgson, who said: "When you see the long-term effects of an obese child on their health and on the NHS, it's hard not to see childhood obesity as the biggest health challenge facing this country."
Duncan Selbie, CEO of Public Health England, said the body has published evidence that shows reducing sugar content of food is the single most important aspect.
He said the journey to reduce salt content has been "very successful", with a loaf of bread now containing half as much salt now than it did 10 years ago, and on average there is now 11 per cent less salt in food.
Taking sugar out of food is now the biggest concern, alongside implementing the sugar levy and reducing advertising of junk food to children, he added.
Food Matters Live is taking place this week (22-24 November) alongside the associated trade fair, at the ExCel Centre in London.