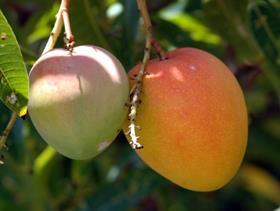 Defra has welcomed an EU vote to remove a ban on the import of mangoes from India, paving the way for trade in the fruit to resume.
Experts from the UK Government's plant health and seeds inspectorate worked with the Indian authorities to help them prepare for an EU audit of their export system. This led to the EU plant health standing committee voting today (20 January) to lift restrictions much earlier than expected.
The UK voted in favour of lifting the ban, together with other member states.
This means that imports of Alphonso mangoes and other varieties of the fruit grown in India will soon resume.
Minister for the natural environment, Lord de Mauley, said: "We have been working closely with our Indian and European counterparts to resolve the issue as quickly as possible and I am pleased that trade in mangoes will resume.
"Today's decision demonstrates the marked improvements India has made to its export system and it is important that these standards are maintained so that trade can continue and UK plant health remains protected.
"I am very pleased that the UK has been able to play its part in supporting India through this period, including through technical assistance provided by Defra's Plant Health and Seeds Inspectorate."
Imports will resume once the new EU legislation has been formally adopted and published by the European Commission, in approximately a month's time.
Approval by the committee provides clarity to Indian exporters and UK importers in advance of the 2015 import season, which starts in March.
Checks will continue to ensure the safety of produce entering the EU and to determine whether restrictions should also be lifted on four other products suspended at the same time as mangoes.
Temporary restrictions were put in place by the EU Commission after plant pests that threaten the UK's £321 million salad crop industry were repeatedly found in shipments from India. The EU ban had been due to remain until December 2015.
The EU import suspension was introduced on 26 April 2014 following persistent interceptions of harmful plant pests and unresolved deficiencies identified by the EU's Food and Veterinary Office (FVO).
The decision to lift restrictions on mango imports follows a further FVO audit in September, which assessed improvements implemented since the restrictions were introduced.
Elsewhere, Keith Vaz, MP for Leicester East, has expressed delight with the decision to lift the ban on importing Indian Alphonso mangoes.

He said:"I am delighted that the Commission and all EU member states who voted in favour have acted to end a ban which has caused so many problems for businesses in the UK and India.

'Many people have been very supportive of the campaign, and my thanks go to the team from Fruity Fresh (Western) for working so hard on this issue for many months. The traders of Leicester must also be thanked for their unwavering support, and I am sure they will be delighted the campaign has come to fruition.'
A spokesperson for the UK-based Fresh Produce Consortium added: 'We are delighted that the Commission has responded to FPC lobbying and control measures by the Indian authorities and acted to lift the Indian mangoes ban in time for the next UK import season. We hope to see future lifting of the ban on other products soon.'
The suspension remains in place for four other products, Momordica (bitter gourd), Solanum melongena (aubergine), Colocasia (patra leaves) and Trichosanthes (snake gourd).
A decision on lifting these restrictions will be taken in light of whether the improvements seen by the FVO are sustained and whether interceptions of plants pests associated with products not subject to the suspension remain at a low level.