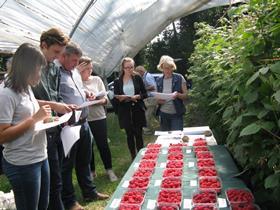 Several high-performing new varieties have emerged from AHDB's latest summer-fruiting raspberry trials.
The best performing among them were Squamish, the recently named Glen Carron, Glen Dee and two late selections from NIAB EMR.
The trial allowed the performance of a wide variety of selections to be compared to the industry standards, Tulameen and Octavia, in a commercial soil-grown crop.
The Canadian variety Squamish produces unusually high yields for an early variety and has a low chilling requirement compared to Tulameen.
Meanwhile, Glen Carron is a high quality variety that produces consistently larger fruit than Tulameen but does have a high chilling requirement.
According to AHDB's knowledge exchange manager Scott Raffle, it performs well when used in sequential plantings of cold-stored long canes.
Glen Dee offers a late-season replacement to Octavia with very large berry size, high yields and high fruit quality.
The two NIAB EMR selections, currently known as EM6805/142 and EM 6804/81, also offer potential to replace the Octavia variety, boasting higher yields and quality, according to AHDB.
Also of interest from the trial were two selections from Washington State University, WSU 1605 and WSU 1607, which have a similar season to Tulameen and offer large berry size.
To find out moreabout the most promising selections, download the AHDB Summer Fruiting Raspberry Variety Trial factsheet at horticulture.ahdb.org.uk/publications.