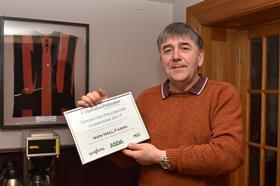 A Suffolk farmer was handed an environmental award after biologists discovered a rare bee, previously thought extinct in the county, among his crops.
Root crop grower Richard Mann, of Iken Hall Farms, was given an Operation Pollinator Green Headland Award for rarest species found, after independent entomologist Paul Lee discovered the Ashy Furrow Bee in his field.
The bee was declared extinct in Suffolk in 1987, having not been seen since before 1900, however, it was sighted throughout the monitoring on Mr Mann's margins alongside commercial root crops. It was one of 110 different species of insect found on his farms' Green Headland mixes.
Also in Suffolk, Andrew Francis of Elveden Estate near Thetford received an award for the highest number of species caught in new pitfall trap monitoring of green headlands, alongside potato, parsnip and carrot fields.
Both farms are part of a new initiative by Syngenta and big four retailer Asda, in association with Kings Crops, to plant field headlands around potato and vegetable crops with a flower-rich green manure mix. These provide much need pollen and nectar sources for insects, and give fertility-building soil protection.
Chris Brown, Asda senior director of sustainable sourcing, highlighted the project demonstrated the good stewardship of farmland by growers supplying the company's stores and customers. "We invest a lot of time and effort in assuring the sustainability of food production; this initiative highlights the efforts of UK growers to work towards increasing biodiversity and protecting resources," he said.
"It is incredibly exciting and positive to see the results of independent monitoring that validates the benefits of good practice and enhancing the farmland environment.'