Days left to enter Eden's leadership programme that supports career development within global food supply chain
The next generation of leaders working within small-to-medium sized enterprises (SMEs) in the food supply chain are being reminded that there is still time to apply for a round of funding and one-to-one mentoring available through Eden Search's second Emerging Leaders programme.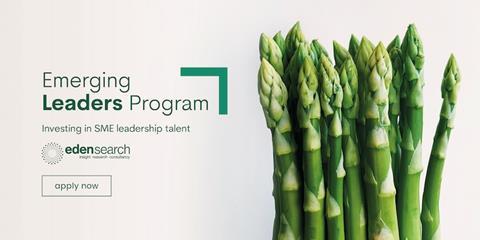 Applications close on 19 November, giving entrants just under one week to submit a proposal.
The Emerging Leaders programme is designed to help future SME leaders fast-track their leadership skills. Eden Search has a training budget of up to £3,000 available for one aspiring executive working for an SME in either food manufacturing, fresh food or agritech.
The money can be used to fund a course, research project or work experience placement that will help unlock the individual's potential and broaden their horizon. In addition, the winner will receive up to four hour-long mentoring sessions with sector specialists (founders, CEOs and senior leaders) over the course of a 12-month period.
Mentoring will also be available to one other applicant.
Who is eligible?
The Emerging Leaders program is open to anyone with five or more years' experience working within an SME in food manufacturing, fresh food or agritech in the UK or internationally.
Individuals must be able to demonstrate experience in a senior management position and have a clear view of the external support they require to continue their career path into leadership / board positions.
How to apply?
Applicants need to send a copy of their CV and write a 500-word summary answering the following key questions:
* What are the challenges you would like to solve within your industry?
* What training / development would you need to achieve this?
* What difference will this training make to you and the industry, long-term?
The deadline for applications is 23:59 on 19 November 2023. Applications should be emailed to: emergingleaders@edensearch.co.uk.
For further information including all terms and conditions, go to: https://www.edensearch.co.uk/emerging-leaders-program/
Eden Search & Select is a UK-based executive search consultancy focused on the global food and farming landscape.