A surge in grocery spend in final week of December helped boost supermarket results, Nielsen reports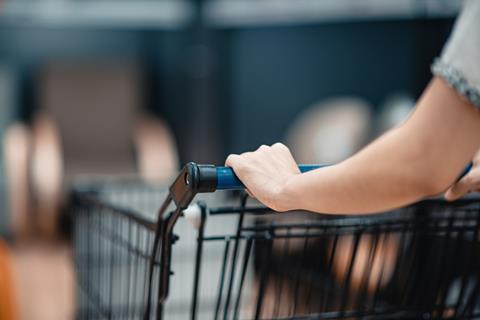 UK supermarkets experienced their highest ever value sales in the week before Christmas, as a surge in last-minute shopping and accelerated food inflation conspired to push up consumer grocery spend, reports market analyst Nielsen.
Latest NielsenIQ data (10 January) reveals that supermarket value sales increased by 19% and spending topped £4.6 billion in the seven days before 24 December, marking the highest spending week on record.
Volume sales increased by 8.8% helped by the full week of trading in the run up to Christmas, Nielsen said. Meanwhile, food inflation (13.3%) also boosted value growth.
The analyst said Christmas 2022 was a very competitive season for retailers, with some late, deep price cuts on seasonal vegetables for Christmas dinner – such as 19p carrots and sprouts – which encouraged shoppers to go in-store for fresh food.
Discounters emerged as the clear winners, according to NielsenIQ data. Over the 12 weeks to 31 December, Aldi was the fastest growing retailer with a 19.3% growth in sales and Lidl (15.7%) a close second.
With over 18 million households visiting the discounters (equating for 63% of all UK households) - an additional 1.3 million on last year - new shoppers helped to drive discounter market share to 18.9% from 17.5% in 2021.
Nevertheless, M&S and Sainsbury's traded well over Christmas with shoppers visiting more often, Nielsen said. Tesco's Clubcard prices also helped drive sales and ASDA continued to attract new shoppers. After a sales decline during 2022, Morrisons' growth turned positive in the last four weeks and Ocado gained market share within the online channel.
Nielsen data also revealed a 2.8% growth in online sales in December but lost share of all FMCG which fell back to 10.4% from 11.2% a year ago and 12.1% in 2020.
Looking ahead, Mike Watkins, NielsenIQ's UK head of retailer and business insight, said weak confidence around personal finances and a squeeze on disposable income will have a big impact on demand over the full year.
"We estimate total food retail growth in 2023 to be around 5% (a total of £190bn across all channels). However, we also expect the recession to start to influence shopper behaviour and reframe overall retail spend.
"2023 will be tough for households as 33% only have enough money for essential spending with just 5% able to spend freely. Consumers in the middle are those that live comfortably but still watch their wallets with the ability to buy things at will."
In related news, Office for National Statistics (ONS) figures released today (13 January) showed that booming trade in British pubs and restaurants during the World Cup helped boost UK economic growth in November as people went out to watch the football.
The economy unexpectedly expanded by 0.1% in November over the prior month, the ONS said, helped by increased demand for food and drink in the hospitality sector, in spite of households being squeezed by rising prices.