The UK foodservice fresh produce wholesaler scoops six Great Taste Awards for range of products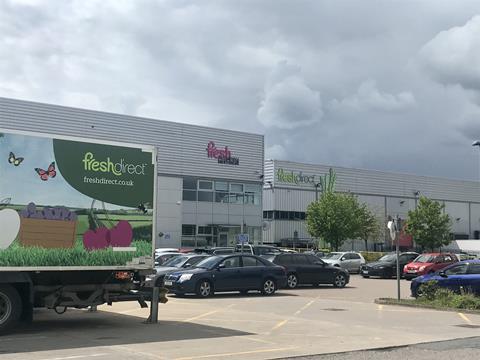 Fresh Direct, the UK's leading foodservice fresh produce wholesaler, has been awarded six Great Taste awards for a range of products produced in its Fresh Kitchen facility in Bicester.
Fresh Kitchen hand-prepares an array of sauces, pickles, soups marinades, relishes and desserts to support chefs in the hospitality industry.
The winning products, which build on the three awards that have previously been presented to the company, are:
Rum Sauce, a caramel-coloured glossy sauce which conjures up the taste of the Caribbean, achieved an 'outstanding' two-star award from the judges.
Golden Beetroot Piccalilli, which judges described as "pleasingly coloured with brightness, an innovative piccalilli with refreshing and clean seasoning."
Watermelon Pickle, which allows chefs to serve up an innovative option that combines the sweetness of the melon with the sourness of lime and vinegar. Judges were said to be "excited by this completely new concept of pickle which is both refreshing and attractive."
Tomato Basil Gelato, a real talking point at the table thanks to its unusual combination of flavours in a sweet dish. Judges were said to be "enchanted by the flavour which was surprising and delicious and melded into a delightful dessert."
Beef Bourguignon, one of Fresh Kitchen's fastest growing products, which offers a rich, homemade feel to this traditional favourite. Judges said that "the flavour is great, with a real depth to the sauce and the onions are sweet and tender."
Comeback Sauce, our 'secret' sauce that's great for a range of recipes, and the perfect condiment for a burger. Judges said it was "cleverly textured with the heat from the siracha well balanced and the consistency perfect."
James Chilton, manufacturing manager at Fresh Kitchen, said: "We are delighted that the Great Taste awards have recognised so many of our products. We pride ourselves on creating top quality, consistent products with every batch we make. It's why customers have come to rely on Fresh Kitchen to support their own kitchens with our range of around 400 recipes. The awards are testament to the craft and innovation that goes into the products, which are created using high quality ingredients.
Sysco-owned Fresh Direct is the leading specialist supplier of locally and globally sourced fresh produce and dairy across Great Britain, as well as fresh fish and seafood from  M&J Seafood,  as part of a consolidated delivery for many corporate customers.