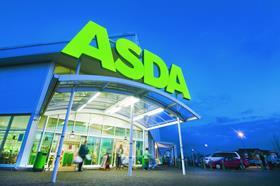 Asda has published its first ever food waste figures, with fruit and veg making up a large majority of unsold food products.
The supermarket revealed 23 per cent of its total food waste was fruit and veg, with dairy and bakery products trailing at 16 per cent and 15 per cent respectively. Meat and fish made up 6 per cent of its waste.
Over 90 per cent of its food waste, amounting to 29,257 tonnes, ended up going to anaerobic digesters which generate energy. The retailer estimates 0.1 per cent of its waste went to landfill.
Surplus food donations by comparison only made up 1,134 tonnes of unused food. The company said it had managed to increase donations by 26 per cent in 2018 however.
Asda said this figure amounted to 2.7million meals being donated last year. Its Fight Hunger Create Change programme will see all Asda stores donating edible surplus food by the end of 2020.
The retailer distributes its food via a partnership with FareShare and anti-poverty charity the Trussell Trust, with Asda also investing in FareShare's infrastructure to increase capacity.
Karen Todd, senior manager of Zero Waste at Asda, said:"Tackling food waste has to be a collaborative effort and we've been working hard, in partnership with our suppliers, colleagues and our customers, to meet our commitments to halve food waste by 2030 and make a positive difference to our communities.
"We think it's really important that we share our food waste data publicly to allow others to understand our progress and I'm delighted that we've been able to increase the amount of food reaching good causes."
Asda has committed to reducing food waste by 20 per cent by 2025, halve it by 2030 and increase transparency around food waste.
Dr David Moon, head of business collaboration, WRAP, said: "Measuring food waste is fundamental to understanding why it occurs and identifying the priority actions to effectively reduce it. Taking action to publicly report for the first time demonstrates Asda's long-term focus on tackling food waste in an efficient and transparent manner.
"As a Courtauld 2025 signatory (as well as being committed to the UK Food Waste Reduction Roadmap), Asda's pledge to 'Target, Measure, Act' in collaboration with suppliers is a good indication of further progress that will be made."