South African producer donated 20,000 PinKids apples to FareShare ahead of Platinum Jubilee celebrations for distribution to charities across UK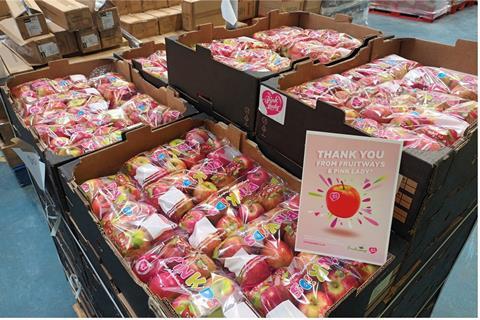 South African topfruit grower and exporter Fruitways has announced that it delivered 20,000 PinKids apples to FareShare in the run-up to the Queen's recent Platinum Jubilee celebrations.
Fruitways delivered the miniature Pink Lady apples, which are aimed at families with children, to the food redistribution charity in celebration of the company's 100-year link with the British monarchy and its Commonwealth connections.
The apples arrived from Fruitways' Glen EIgin farm in South Africa exactly 100 years after Queen Elizabeth's grandfather, King George V, was reportedly wowed by apples imported from the very same farm.
Fruitways' Rupert Meikle said: "We are delighted to have worked with FareShare to make sure this donation of premium quality PinKids apples can spread some cheer and make a difference to families that might be struggling to put fresh fruit on the table. It's a perfect way to celebrate our company's links with the monarchy and the Commonwealth too."
FareShare's commercial manager Adele Fash said the donation made "a huge difference to so many people up and down the country" and she thanked Fruitways for its continued support.