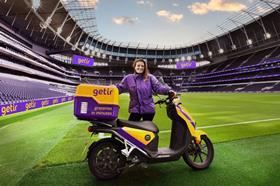 Rapid grocery delivery service Getir has signed a three-year partnership withTottenham Hotspur Football Club.
The agreement, which sees Getir become an Official Global Partner of the Premier League club, caps a very busy year for the Turkish company.
Despite only launching in the UK in January, Getir already delivers groceries in minutes across London, Birmingham, Manchester, Brighton, Cardiff, Liverpool and Bristol, and expects to operate in up to 15 UK cities by the end of 2021.
Joining forces with Spurs marks Getir's first sporting partnership in the UK and continues the brand's commitment to working with some of the world's leading sports organisations.
"It is our great pleasure to support and stand by the side of sports and athletes; we will continue to respect and value them," said general manager of Getir UK, Turancan Salur.
"It's great to now be able to deliver this in the UK with our first football club partnership with Tottenham Hotspur. We have worked hard to deliver groceries in minutes, and much like on the pitch where every second counts, we are focused on delivering state-of-the-art tech and creating unique experiences for fans.
"We have seen great appetite for our online grocery delivery service, and we know that people crave convenience, but we also give time back so customers can enjoy doing the things they love, things like watching Premier League football."
Todd Kline, chief commercial officer of Tottenham Hotspur, added:"We are delighted to announce this new partnership withGetir and we're looking forward to supporting them with their rapid growth in the UK and across Europe."
Getir was founded in 2015 as the world's first ultra-fast grocery delivery service in Istanbul and has grown rapidly in recent years. This includes market entries into the UK (January 2021), Netherlands (May 2021), Germany and France (June 2021).
Customers can order groceries via the app and choose from over 1,500 everyday products in minutes, including fresh fruits and vegetables as well as personal and home care products.
All Getir riders are directly employed, and all scooters and bikes are electric to improve sustainability and to reduce noise.