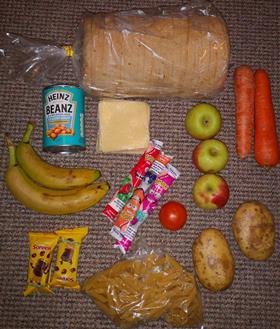 Cambridge fruit and veg supplier Neil Bharadwa has called for government contracts for free school meals to be switched from large catering suppliers to smaller local businesses.
His comments come in the wake of a national scandal over the size of food parcels provided by Compass Group subsidiary Chartwells to Britain's poorest children while schools remain closed in England.
"I think it'd absolutely be possible to divide the contracts up between smaller fresh produce suppliers like ours if they did it by region or allowed local councils to find suppliers. As long as there's a decent framework, it's perfectly feasible," said Bharadwa, co-owner of the Cambridge Fruit Company.
"A lot of fresh produce companies like my own have had to pivot anyway during lockdown, and there's no reason why they can't source additional items like bread, eggs, cheese – lots of fruit and veg businesses supply them anyway."
He added: "I'm glad this has come out. This has shown the wider public the unscrupulous practices that have been going on behind closed doors for decades.
"If the government wants to maximise the value for the children and the taxpayer, there needs to be more fresh produce in that box – more fresh fruits and larger produce such as pineapples, watermelons, mangoes, carrots, cucumbers, peppers – anything that can be chopped up into pieces.
"I know it's not always economical to supply some products at certain times of the year, but when it is, they should do that. That's how you get more value for money."
Chartwells was given the right to reply to Bharadwa's comments but was unavailable for comment.
"Very sad and depressing"
The latest chapter of the school meals scandal erupted on Monday (11 January) when a Twitter user called Roadside Mum posted a photo of the parcel she had received. It contained two carrots, two potatoes, a tin of baked beans and a small selection of other food items, which she calculated to cost only £5.22 at Asda.
In an interview with theBBCshe said "it felt very sad and depressing" to lay out the food with her children and see how little there was.
Subsequently, many more photographs of what appeared to be insufficient parcels have been circulated on social media and in the press, however not all of these are related to Chartwells, the supplier said.
Marcus Rashford asked to meet with the supplier responsible, Chartwells, after photos of the meagre food deliveries were posted on Twitter.
Roadside Mum thought the food was supposed to last 10 school days and should have been worth £30, however Chartwells said the picture showed five days of free school lunches.
"The charge for food, packing and distribution was actually £10.50 and not £30 as suggested," the company added in a statement.
"Very sorry"
Marcus Rashford shared images of food parcels, saying they were "not good enough", while Number 10 called the issue "completely unacceptable". An investigation has been started by Children's minister Vicky Ford.
Chartwells acknowledged that the quantity of food provided had "fallen short in this instance" and said it was "very sorry".
The catering supplier has now promised to refund the costs where food parcels "have not met our usual high standards", adding that it would be contacting every school to understand where shortages may have occurred and will apologise to anyone affected.
The Department of Education announced that from now it would allocate £3.50 extra per child per week in line with nutritional guidelines, and Chartwells said it would ensure that "every penny goes into the provision of the food".
According to the company, its food hampers for one child's lunch for 10 days 'typically' consist of the following (depending on supply availability):
2x cheese (200g)
6x red apples
4x oranges
4x bananas
2x cucumbers
4x carrots
8x baked potatoes
1x lettuce
2x tomatoes
4x baked beans (cans)
1kg pasta
4x chopped tomatoes (tins)
2x tuna (tins)
4x green peas (tins)
1x loaf of bread
3x children's malt loaf snack
In addition, Chartwells announced that from 25 January it would be adding breakfast to the parcels free of charge to schools and that it would continue this provision while schools are closed.
"The breakfast will includebloomer, bagel, butter, yoghurts, juice, milk, oats and fruit," Chartwells managing director Charlie Brown said.
Chartwells is a subsidiary of the world's largest catering supplier, Compass Group, which had a revenue of £25 billion in 2019. It serves the education sector in the UK and Ireland.
During the current national lockdown, schools have been told to carry on providing free meals for children learning at home and have been encouraged to use their usual caterers to offer food parcels. If schools cannot arrange parcels, they can consider offering vouchers for local shops and supermarkets.