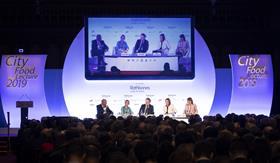 The global food industry needs to transform its values to get to grips with a global health crisis according to a panel at the annual City Food Lecture.
City University professor of food policy Corinna Hawkes urged the industry to put nutritious food "at the core" of their business models, following decades of neglect in a global food system lacking leadership or governance.
Sharing the stage with NFU president Minette Batters, Rabobank's Europe chief executive Tamira Treffers-Herrera, chairman Chris White of Fruitnet Media and Dominic Blakemore, chief executive of the Compass Group following his keynote speech, Hawkes outlined her belief that new food policy can help solve many of the world's most pressing problems.
She said: "There are four things food can help us with: it can help the world be a healthier place; it can reduce greenhouse gas emissions and improve the environment; food can promote social cohesion and food can create value and support livelihoods. If food does not deliver on those metrics by 2050 the food system is failing.
"I would like to see every nation and every city have a food policy in which we are bringing these aspects of food together, seeing food as a solution to so many world problems today."
With a rising global population increasingly entering the middle classes, higher consumption of processed foods containing sugar, salt and fat are driving food-related conditions such as obesity and diabetes.
According to Hawkes 69 per cent of packaged meals are not aligned with healthy diets, while 60 per cent of teenagers still have a fizzy drink every day. "When you look at the younger generation, 75 per cent of the under-twos do not continue to eat a diet suitable for growth and development," she added.
"The food industry has a huge challenge and has to work very hard to meet that challenge. My challenge to the industry is put nutritious food at the core of your business model, and start from there, don't do what you were doing in the forties, fifties, sixties, seventies and eighties, which was going in the wrong direction."
Making change
Transforming UK food production in the face of Brexit, among other challenges, will not be an easy task however. Batters bemoaned "two and a half years wasted" on Brexit discussions that could have been invested in bringing about a horticulture revolution.
She reaffirmed her belief that a no-deal Brexit would be "catastrophic", warning that the country was "inching closer to a no-deal".
Blakemore revealed the Compass Group was making strategic changes in the run up to Brexit as well, including looking at substitute ingredients and changing their investment decisions. "We crave certainty," Blakemore added.
Batters said fragmented government departments in the UK are also preventing the creation of a coherent national food strategy. "One of the frustrations I have and have to address is the fact that we lack joined-up government departments. If I speak to BEIS and talk about creating an export platform they say you're in Defra, you're in primary production.
"If these departments don't join up, if we keep on with this silo approach it simply will not deliver the productivity advantages we can achieve."
Batters said that local growing initiatives such as vertical farming could only achieve limited success in expanding UK production, after Blakemore suggested there was potential in a "local for local" produce trend that was rapidly catching on in the US.
"In the UK we have fantastic conditions for growing,' Batters said. "If you're in Israel or certain parts of the US and other parts of the world where you don't have access to water and the right farming conditions then yes, vertical farming has a place. It has a place in the UK, but it's more around leafy salads, and hydroponic production."
She continued: "We really need to be focused on the soil, and the value we have in production is soil-based, rather than very expensive energy-sapping vertical farming. It has a place, but it has a small place and let's focus on the soil."