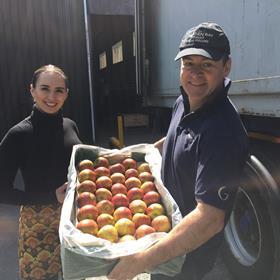 New Zealand apple grower-exporter Golden Bay Fruit has this week delivered its first volumes of new season Cox to the UK.
The company said it is "very happy" with the quality after a primarily good growing season in New Zealand. "The only negative during the growing season was the hailstorm in December that reduced our crop by 20 per cent," said commercial manager Patrick Meikle. "We have had the first Cox arrive in Europe this week and are very happy with the quality on out turn.
Meikle said Golden Bay Fruit grows and packs around a quarter of the entire NZ Cox crop, and has been planting significantly over the past few years.
"Golden Bay has been planting significant volumes of apples over the past few seasons, which will generate a volume increase by circa 50 per cent over the next three to four seasons," he said. "We also have research orchards where we have developed a couple of exciting new varieties that are yet to be named, so watch this space!'
The new varieties have had good customer feedback from UK/Europe, Asia, and the US, Meikle continued, and volumes are expected to rise "substantially" over the next few years.
"To facilitate the growth, Golden Bay Fruit is in the process of designing and building a brand new packing facility, that will be equipped with the latest state of the art packing and grading equipment," he added.