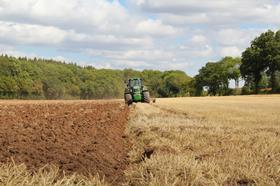 The government has launched a £27 million Farming Investment Fund to help growers, farmers and foresters in England pay for new equipment, technology and infrastructure.
The fund, which comes as the government phases out direct payments, is designed to help farmers improve productivity and enhance the natural environment.

It is made up of two parts: theFarming Equipment and Technology Fund(to provide small productivity grants)and theFarming Transformation Fund(covering more substantial technology, with an initial focus on water management).
Through the Farming Equipment and Technology strand, the maximum grant in the first application window is £25,000. The minimum grant available is £2,000, reduced from £3,000 under the fund's predecessor, the Countryside Productivity Small Grant (CPSG).
Compared to the old fund there are more items eligible for investment, with the list expanded from 87 to 119 items. It includes electronic seeders and chemical-free disinfection systems, with much of the additional equipment aimed at the horticulture and forestry sectors for the first time.
Each piece of equipment carries a set price which the farmer is paid regardless of what it costs them to buy.
The Round 1 application period opened on 16 November 2021 and will close on 7 January 2022 at midday.
Farming Transformation Fund
The Farming Transformation Fund, meanwhile, will focus initially on providing grants to improve water use on farms for things like crop irrigation and constructing on-farm reservoirs.
The so-called Water Management grant is now open for applications and will close on 12 January 2022.
There is an onlineeligibility checkerso applicants can check in advance whether their project is suitable. Projects that score highly enough against the scheme objectives will be invited to make a full application for grants ranging from £35,000 to £500,000.
In addition to the Water Management grant, an Improving Farm Productivity grant will open later this year, with an Adding Value grant launching early in 2022.
To be eligible for each of the funds, applicants must be based in England and involved in the production or processing of agricultural, horticultural or forestry products.
Reaction
Farming minister Victoria Prentis said: "Investing in new technology and equipment on farm has a real impact on productivity and yields, as well as a benefit for the environment as we build on the historic commitments of COP26."
Meanwhile, NFU vice-president Tom Bradshaw welcomed the funds but emphasised that "the application windows for both schemes are tight'.

He added that the current disruption to supply chains, as well as the difficulty getting planning permission for building reservoirs, could lead to delays and said it was vital that farmers make their applications as quickly as possible and, if accepted, give themselves as much time as possible to make the necessary arrangements.
Other government support
As set out in theAgricultural Transition Plan, the Government is also introducing a range of reforms to incentivise sustainable farming practices, rewarding farmers for producing public goods such as better air and water quality, protecting wildlife, soil health and animal welfare.
As direct payments are phased out over the seven-year agricultural transition, the Government has committed to offer financial assistance to support farmers to invest in their businesses to improve their productivity, manage the environment sustainably and deliver other public goods.
Farmers are also able to access business support through the Farming Resilience Fund. The fund awards grants to organisations so that they can support farmers and land managers who are in receipt of Basic Payment Scheme payments.