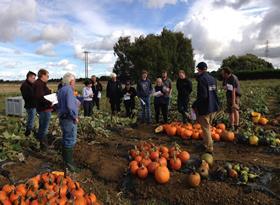 Last year's pumpkin season very nearly became a real-life horror story as poor growing conditions saw yields falter and some growers running out before the crucial Halloween peak.
In response, this year growers have planted an additional 500 acres, according to new figures from the British Growers' Association – an increase Charlotte Wheeler, account manager at Tozer Seeds, describes as "staggering".
"It was a poor year last year for pumpkins, yields were down and people were running out. This year they've put more in just in case, but I think yields will also be strong," she says. "The UK is getting more and more into Halloween. The increase in planting of 500 acres is massive."
Essex grower Guy French, of Foxes Farm Produce, says pumpkin growing conditions this year have varied depending on soil type and available irrigation. "The cold May when we did not plough caused some pumpkin seedcorn maggot issues to drilling," he says. "The wet June waterlogged some crops, but helped others on the lighter land. On the heavier land the lack of rainfall in the east has been an issue, but lighter land with an early drilling has produced a good quality crop. We have found an earlier attack of powdery mildew on the crops this year as well."
Overall, French says yields will match last year, although on heavier land the yields and skin finish are poorer. Foxes Farm Produce supplies a range of wholesalers as well as the East of England Co-op, and French says the company has two new varieties this year – Gold Medal and Goosebumps. The company has also moulded 'scary faces' onto so-called 'pumpkinsteins' to stimulate the category ahead of Halloween.
Barfoots managing director, Julian Marks, says a late summer means the 2016 pumpkin crop will reach harvest in 'almost perfect conditions'. 'Although some of the fruit are a little smaller, and quantities are lower than seen in previous years, the vibrant orange colour and overall quality of the pumpkins Barfoots are currently harvesting is exceptional,' he said.
Marks said the 'Goosebump' pumpkin variety is growing in popularity, with its 'warty-looking skin' ideal for a spooky Halloween lantern, while new this year is a limited-edition production of white 'albino' pumpkins.
Scroll down Twitter at this time of year and many wholesalers are proudly displaying a range of colourful new-season English squash. Used for decoration as well as cooking, winter squash is well-suited to British growing, explains Wheeler, while grower Sally Bail, of Charlton Orchards in Taunton, says demand is growing year-on-year. "If I had more space I would grow more squash," she says.
"We produce 12 varieties of heritage English squash, including Gem, Acorn and Red Kabocha. Right across the board demand is strong, although butternut is the one everyone knows. It's very suitable for culinary use, and it's easy to peel – 50 per cent of our total squashes are butternut." Bail, whose biggest customer is Total Produce Bristol, agrees growing conditions have been mixed. "It's been very mixed, and a bit of a late season. We had cold and dry weather in July, and the overall size of each squash is down a bit, which has affected overall tonnage, though there is still some there," she says.
Catering supplier John Connell has been promoting its wide range of new-season autumn squashes across social media, and director Marcus Rowlerson says supply on the market is good. "Our best seller is Potimarron – the flavour is good, and it is reminiscent of classic French rural cooking.
"Heritage lines in all produce categories have made a comeback over the last few years, because everyone's looking for the next big thing," he says.
Squashes and pumpkins have an essential place in autumn harvests, and with strong demand and consistent varietal development, the category has a bright future as one of the British produce staples.
Vegetable specialist Bruce Napier rounds up the strongest contenders at a recent NIAB squash and pumpkin open day:
Clause had a good range of material with HMX4680 being an interesting new addition. Spitfire has a nice shape and colour and fits into a smaller spec than others. Harvest Moon from CN seeds is a nice, bright colour and will continue to be an industry standard. Their coded variety 7826 is a Kabocha-type, which sparked a lot of interest and is a deep orange colour.
Flynn and Terrafin from Sakata are both taking some market share. The Terrafin was easy to cut and has a good number of fruits per plant (1.5 marketable). Tozer Seeds' varieties Racer and Mars had very few unmarketable fruits. Like Spitfire, Mars is a smaller spec fruit with a distinctive (classic) shape.
Pro-Veg Seeds showcased winter squash rather than Halloween pumpkins. Of the two Crown Prince types, The Warrior was the better performer and the internal flesh colour was uniform. Invincible was greener towards the skin and orange towards the seed cavity.
Geisha is a Kent/Jap type and had a deep, rich internal colour, hopefully promising good flavour. Melissa had large fruits but looks like it will take several weeks more to ripen. The acorn squash Orangita had small 10-15cm fruits, which were very attractive, with a vivid bright orange colour.