Endeavour Primary School and the HC3S catering team in Andover, Hampshire come out on top in Veg Power's School Caterers' Challenge
Veg Power has announced the winner of its 2022 School Caterers' Challenge as part of its award-winning Eat Them To Defeat Them campaign run in partnership with ITV.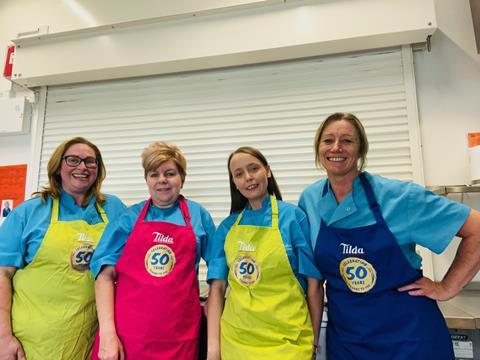 Entries submitted by school catering teams were evaluated for their creativity, enthusiasm and commitment to encourage children to try more veg during the campaign. This year, Tilda became the official sponsor of the Caterers' Challenge and an additional category, the Tilda Challenge, was added, in which school chefs were asked to create a dish that had the perfect harmony of vegetables and rice.
The overall winner of both the Caterers' Challenge and the Tilda award was the Endeavour Primary School and its HC3S catering team in Andover, Hampshire. The winning team will receive a trophy, certificate and cheque for £500. The trophy will be presented at the LACA Awards for Excellence gala dinner on 7 July 2022.
While there were many creative entries, the judges selected Endeavour Primary as the winner due to its Monster Market vegetable tasting stall. The stall was not only eye-catching and highly visual, but also became a gathering point which led to discussions about vegetables between teaching staff and pupils.

The judges were also impressed with how the team encouraged all different age groups of children to participate from posters to art displays and a recipe development competition.
The Tilda Challenge winning rice and vegetable recipe will join Veg Power's online recipe collection appearing alongside recipes by Jamie Oliver, Sir Paul McCartney and dozens of other celebrities. Twenty runners up will each receive £100 and be acknowledged on the Caterers' Challenge Hall of Fame which can be visited at https://www.eatthemtodefeatthem.com/en/caterers-challenge
Commenting on her school catering team's success and involvement in Eat Them To Defeat Them, Helen Palmer, headteacher of Endeavour Primary School, said: "We are thrilled that our catering team has been recognised for this prestigious award. They go over and above to engage and enthuse pupils in eating vegetables and the way they involve the children creatively makes all the difference to making it a highlight of the school term and even year."
The Caterers' Challenge was held as part of the Eat Them To Defeat Them schools' programme in which one million children from 3,845 schools across the nation participated. The school catering teams used their talent and expertise to create spreads of vegetable tasters for their pupils to try. All children also received a reward chart and sticker pack to take home to encourage them to repeat the behaviour at home.
"Every year we are absolutely blown away by the amazing entries to The Caterers' Challenge," said Veg Power CEO Dan Parker. "The school catering teams play such a pivotal role in bringing this campaign to life for children. We love to see their creativity through the production of spreads of vegetables which encourages even the most reluctant child to give them a try," commented Dan Parker, Chief Executive, Veg Power.