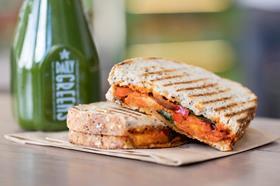 A third of consumers would eat out more if healthier options were more readily available, according to new IGD research.
The study, which examines this trend and the opportunities it presents for food and drinks companies, showed that some 67 per cent of consumers eat out at least once a week. A third (34 per cent) claim to do so "a couple of times" weekly.
To encourage more of people to eat out and choose healthy options companies must overcome four barriers to sales, according to the research. These are:

1) Value perceptions: Some 59 per cent of consumers feel it's more expensive to eat healthily when out of home.
2) Confusion about messaging on products: This can cause people to make misinformed choices.
3) Difficulty finding healthy options: People usually revert to the easiest option when choosing food on the go.
4) Takeaway food culture: Takeaway missions currently have the lowest explicit levels of consideration around health, but expanded home delivery and takeaway options could shift this perception over time.
Convenience and foodservice businesses can meet these challenges in four ways, the report recommends.
Firstly, they could offer a broader range of healthy options; secondly they could reposition their language on health; thirdly they could 'lead the market' on healthy choices; and finally they could vary their offer and target certain demographics, such as families with young children.
"There is scope to encourage some people to eat out more frequently by offering a broader range of healthy options and meeting specific dietary claims," said IGD head of shopper insight Rhian Thomas.
Secondly, she said there was an "opportunity to reposition the language of health," with many consumers viewing healthy eating as "a sacrifice".
"There is scope to break this association, by showing that healthy food can taste good and make you feel good too," she said.
"This requires hitting the right emotional notes, for example giving healthy ingredients 'hero status', using enticing language and visuals to excite the senses and creating a sense of theatre around preparation."
Thomas' third recommendation is for some restaurants, cafes and food-to-go companies to "build a reputation for leading the market on healthy choices", but she warned against switching people off by making health messages "too intrusive".
Finally, she identified opportunities to vary the offer and target certain demographic groups, locations and occasions when people are most concerned with healthy eating.
"Families with young children are particularly keen to see a wider choice of affordable, healthy choices in their area," she suggested.