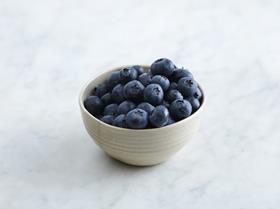 Love Fresh Berries, the marketing campaign behind grower organisation British Summer Fruits, marked the start of the UK blueberry season yesterday (29 July) by promoting the benefits of eating blueberries.
Publishing 'top five tips' to encourage Brits to pick up a fresh punnet this season, the group said science shows blueberries can boost happiness, immunity, a healthier heart, cognitive function and have anti-ageing properties.
'Blueberries increase the brain's production of feel-good dopamine, a natural neurotransmitter that can make us feel happy,' its top tips said. 'Blueberries are full to the brim with antioxidants, nutrients and vitamins. Eating them is one of the easiest ways to give your immune system a boost.'
The superfruit is one of the most nutrient dense berries – packed with fibre, potassium, folate, vitamin C, vitamin B6 – which can help reduce cholesterol and decrease the risk of heart disease, it added.
Meanwhile, research published in the European Journal of Nutrition has found that eating fresh blueberries could have cognitive benefits for children, including increased cognitive function, reading efficiency and verbal memory, it said. Added to that, blueberries have been found to have 'anti-inflammatory' mechanisms which can help to promote healthy ageing.

Dr Emma Derbyshire, Public Health Nutritionist and adviser to British Summer Fruits commented: "In the last few years, we've seen a growing body of scientific evidence supporting the potential health benefits of blueberries for our brains, our hearts and our guts.

"Now is the perfect time to eat British blueberries. These naturally sweet and versatile fruits provide all-important polyphenols that can be scattered on to cereals, packed into lunch boxes and picnics, or blended into smoothies."

Nick Marston, chairman of British Summer Fruits commented: "The British blueberries available in supermarkets right now are large, sweet and delicious. Blueberries make the perfect summer snack and are ideal in breakfast, picnic or baking recipes for all the family to enjoy."
The British blueberry market has grown tenfold in a decade to be worth £500 million, said British Summer Fruits. And last year a whopping 50,000 tonnes of blueberries were bought by British consumers, the equivalent of 40,000 double decker buses.
UK growers continue to ramp up production to meet rising consumer demand, and new growing techniques (polytunnels, irrigation and substrate production in pots) and producers' spread of geography from the south coast of England to north Scotland means that Britain has one of the world's longest blueberry production seasons.