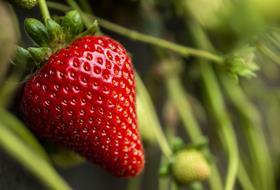 British berry grower Hall Hunter Partnership has sold the majority of its operations to an agricultural investment fund.
The deal involves the sale of five of Hall Hunter Partnership's (HHP) UK sites to ADM Capital's Cibus Fund, a $462 million fund that also has major investments in worldwide agricultural projects.
The deal will see a new soft-fruit company created, called The Summer Berry Company, selling to retailers across Europe from 230 hectares of production. HHP will continue to manage and operate three farms in Berkshire and Surrey that are outside the transaction.
ADM Capital purchased all of HHP's southern growing hub located near Chichester in West Sussex. This comprises of the Colworth Manor Estate and a 26ha glasshouse complex, growing strawberries, raspberries, blackberries and blueberries together with a 35ha bespoke propagation site.
The Cibus Fund also purchased HHP's farm in Portugal, which grows raspberries and blueberries under 70ha of polytunnels.
The fund, which raised $452m in October 2018, has invested in a variety of agricultural projects around the globe, including almonds in Australia, olives in Spain and Portugal, indoor farming in the US, fly farming in Canada, alternative proteins in the US as well as "nanobubble" technology for improved crop irrigation.
Meeting growing demand for berries
Jeremy Alun-Jones, chief operating officer at ADM Capital said: "Drawing on over 50 years' experience in the berry industry, HHP has grown to be one of the leading berry growers in the UK.
"Buoyed by its sustainable approach and investment in new technologies and geographies, the business is well-positioned to meet the growing demand for berries as a superfood.
"With global berry consumption growing strongly over recent years we look forward to seizing the opportunity to work with a world-class management team as we execute the business' ambitious growth strategy."
ADM Capital's Cibus Fund investment is the latest high-profile investment from finance into British agriculture, with London firm Amberside Capital raising funds last year to build what will be one of Britain's largest glasshouses for tomatoes, in Suffolk.
The business approached HHP at the start of the year, identifying soft fruits as a major investment opportunity arising from global demographic change, healthy eating trends, and a lack of domestic production.
David Kay, group CEO, The Summer Berry Company, said:"We are delighted to be partnering with the ADM Capital team to deliver the next phase of our growth plan. The combination of our production assets and our excellent growing teams will allow us to produce the best quality soft fruit available year round.
"We are keen to work with the other companies within ADM Capital's portfolio to identify and capitalise on the potential synergies. The team are excited and very much looking forward to the journey ahead."
Berries have been one of the standout fresh produce performers in recent years, regularly posting double-digit volume and value yearly growth rates.
March 2019 figures show soft-fruits' value rose 7.9 per cent in the previous 12 months, with volumes up 3.3 per cent. Within the soft-fruit category, blueberries topped growth rates, with a 14 per cent growth in spend, between March 2018 and 2019.
Jason Silm, senior investment director at ADM Capital, added: "Glasshouses and polytunnels cover the entire cultivated area of HHP's operation which, using the latest technologies, mitigate the risk posed by adverse weather conditions and disease. These technologies optimise water use, nutrient delivery and growing conditions for the best possible yields while maintaining quality and flavour.
"We look forward to working with the company's management team to vertically integrate the operation and, using new channels of distribution, take the company directly into new markets."