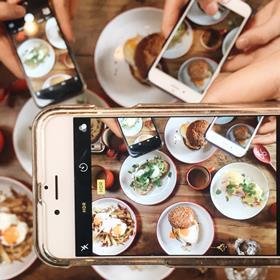 There has never been a better time to be a herb producer. Consumers are showing an ever-increasing interest in cooking fresh and flavourful food, and with rising transmission of different cuisines across the world, the herb market is diversifying and noticeably strengthening.
The foodservice sector is responsible for a large portion of this success, setting trends in food which then trickle down to shops and ultimately, household kitchens.
Herbs play an important role in new product development, inspiring menus that stand out, and look and taste noticeably different. Chefs are currently highly pressurised in a difficult market, what with the growing demand of millennial diners wishing to experiment when eating out, according to Andy Weir, head of marketing at Reynolds. He outlines rising costs, weakening consumer confidence and staff shortages within the eating-out market as making "differentiation in a crowded marketplace more important now than ever".
Producers can learn a lot from foodservice trends to predict subsequent influences on retail. Tony Reid, head of marketing at Vitacress, describes street food as a "great testbed for the next big thing". Watching the products that operators and chefs are creating can inform new developments of product concepts that meet these trends in the average household.
Producers are stepping up to meet the rising demand, as underlined by Vitacress' £4.5 million investment in a new Chichester herb facility, but must also closely follow fluctuations in the popularity of different herbs. Reid describes sales of lemongrass accompanying the growing popularity of Asian cooking, and the replacement of curly parsley by the flat leaf variety, as two recent trends that have required a response from producers. One striking fashion has been the emergence of fresh flowers as an ingredient in professional kitchens.
"Flowers are really complementary to the flavour of fresh herbs, giving the eyes something extra to feast on," he says. "And with so many people Instagramming their dinners, the visual aspect is more important than ever."
It doesn't take long for retailers to replicate trendy foodservice herbs in supermarkets. In June, Sainsbury's launched a new range of edible flowers from Westland Nurseries featuring tagete marigold, monkey flowers, viola and dianthus. Reid also highlights lime leaves and lemongrass as recent additions to retail ranges, and suggest that in the future we might see the sale of herb combinations, aimed at specific meals, as a retail product to enable consumers to recreate similar dishes to those they've been eating out.
Trends like edible flowers, and also the growing aesthetic appeal of cocktails created with fresh herbs, are a direct response to demand for social media-worthy dishes. These new influences on the foodservice market will in turn affect producers, and with more interest in food than ever before, it all makes for a positive development.
As Reid explains: "Anything that drives interest in eating as an experience is going to be of benefit to herbs." With consumers showing unfaltering interest in cooking fresh and chefs experimenting with new flavours every day, the food fashion for herbs is unlikely to dim anytime soon.