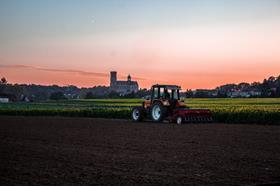 Farmers and agriculture industry professionals are being urged to come forward with ideas on how technology can improve their industry as part of a pioneering project.
UK engineering firm Forth, based in Cumbria, has joined the Tees Valley Innovation Accelerator programme, with partners including the TWI Innovation Network and Teesside University.
New technology is likely to combine Forth's latest developments in robotics and artificial intelligence, as well as utilise its expertise in hydraulics.
Peter Routledge, Forth's innovations programme manager, explained: "At Forth we are specialists in bespoke hydraulics and robotics for diverse industries including agri-tech. Through the TIA programme, Forth will be exploring innovations in robotics linked with artificial intelligence and big data and we will receive specialist support to develop our concept through partnership and public funding opportunities.
"We are looking for interesting projects and agricultural partners to support, and be involved with agricultural diversity projects to help improve sustainability and prosperity.
"We are happy to meet with interested groups virtually or face to face when restrictions allow, whether that's Young Farmers groups or agriculture businesses to hear their ideas.
"It could be anything from how you look after sheep on the high fells more effectively to crop enhancements and treatment which can improve yielding or how energy savings can be made by using renewable power sources. The project has no limitations on innovation. It's all about improving sustainability and making cost savings.
"We want farmers and those working in agriculture to get in touch about any problems or issues they encounter every day, from tasks which could be made easier, or processes which are an inefficient use of their time, money or resources.
"If they've ever thought that they could do with a specific tool or technology for a certain job, then we would like them to tell us about it and we might be able to develop a solution."