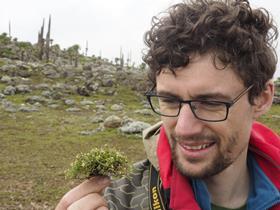 Berlin-based urban farming specialist Infarm has appointed plant geneticistPádraic Flood to lead its crop genetics team and help adapt various staple crops for vertical farming.
A former research scientist at Wageningen University and the renowned Max Planck Institute for Plant Breeding Research, Flood will spearhead Infarm's ongoing efforts to improve the quality, flavour and freshness of its vertically farmed produce.
Flood has a PhD from Wageningen in natural genetic variation in plant photosynthesis, and over the past decade he has used genetics to understand a range of key scientific questions ranging from photosynthesis to how plants adapt to extreme environments.
At Infarm he will lead the development of a breeding programme to adapt grains, legumes and other staple crops for vertical farming.
The company said the aim of the programme is to help return the land currently devoted to these staples to nature and biodiversity, while trying to have a positive impact on both people and the planet through more sustainable agriculture.
Infarm was founded in Berlin in 2013 by Osnat Michaeli and brothers Erez and Guy Galonska.
With a multinational team of more than 1,000 people globally, the vertical farming business has partnered with more than 30 major food retailers around the world.
To date, it has deployed more than 1,300 'in-store 'farms' as well as large-scale Growing Centres, producing various herbs, micro greens and leafy greens.
It claims to have saved more than 60 million litres of water and 60,000 square metres of land when compared with conventional production.