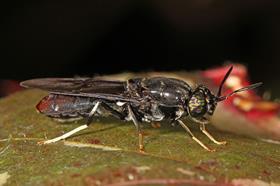 A new multi-million pound project is promising to turn rejected supermarket produce into animal feed using insects, cutting carbon emissions along the way.
The sustainable insect farming collaboration, led by London-based insect-rearing company Entocycle and its partners, has won £5.9 million in funding from UK Research & Innovation, which the Entocycle says will allow it to scale up its farming model in the UK and across the world.
Entocycle's technology breeds black soldier flies which feed on unused food, such as rejected supermarket produce. The insects are then harvested and processed into animal feed using a highly automated system, which is described as profitable, sustainable and scalable. Rolling this technology out across the country will make UK food production more efficient and less carbon intensive, the group claims, with the potential to create over 3,000 UK-based jobs.
Katrina Hayter, challenge director of UKRI's Transforming Food Production programme, said: "The Entocycle-led project is one of the most interesting and exciting projects we have funded. Our aim is to make the UK a global hub for black soldier fly farming. Successful development and scaling of this technology should lead to a significant boost in recycling of food waste and a reduction in emissions.'
In addition, as part of UKRI's Transforming Food Production challenge's Science and Technology into Practice Feasibility competition, some £4.3 million is being allocated to 23 feasibility projects. The aim of the competition is to demonstrate the feasibility of new prototype technology to boost agricultural productivity and reduce emissions.
Farming minister Victoria Prentis said: "I congratulate the UKRI for their Transforming Food Production challenge and all the recipients of the funding. As a passionate advocate for tackling the farming and food industries' greatest challenges it's fantastic to see so many innovative projects being supported to help the sector grow with reduced environmental impact and less food waste."
Enjoyed this free article from Fresh Produce Journal and its team of editors? Don't miss out on even more in-depth analysis, plus all the latest news from the fresh produce business. Subscribe now to theFresh Produce Journal.