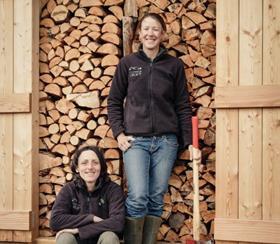 The James Hutton Institute is calling for applications for the 2019 NEWBIE Award, which highlights the work of pioneering new entrant farmers across the UK.
The EU-funded NEWBIE project (New Entrant netWork: Business models for Innovation, entrepreneurship and resilience in European agriculture)offers an award to new entrants in eight European countries including the UK, as part of a suite of opportunities aiming to help new farmers, crofters and smallholders network and develop successful businesses.
Last year, a panel of judges from the National Farmers Unions shortlisted three innovative new entrant business models: The Scottish Goat Meat Company, Lynbreck Croft and the Horned Beef Co. as leading examples. The inaugural UK award was won by Lynbreck Croft, an 150-acre mixed habitat croft enterprise located in the Cairngorms National Park.
After being presented the award at the Royal Highland Show in 2019, they were granted €500 towards training, received a farm video and were featured widely in the farming press. As part of the award process, Lynbreck Croft will be participating in an internationalnew entrant farmer conferenceheld in Ljubljana, Slovenia from 4-6February, where they will network with NEWBIE award winners from across Europe.
Dr Adam Calo, NEWBIE UK project leader, said: "This year we are seeking to recognise new entrant farms that promote resilience. This could be presented as economic resilience through sound financial planning, demonstrable ability to respond after a significant challenge or setback, and/or a business model that considers future challenges like climate change or Brexit.
"If you represent a farm business or if you know of a farm business that demonstrates any of these characteristics, we want to hear from you: submit your entry for the NEWBIE Award 2019."
The application period for the 2019 NEWBIE Award will open on 20November 2019 and close on 8February 2020. The winner will be announced in spring 2020.