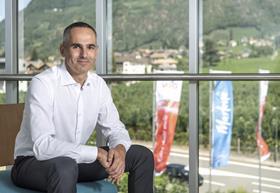 In many ways the apple club is a difficult one to join – new varieties can take decades to breed, develop and commercialise, with no guarantee of sales success in what is a competitive UK fruit market at the moment. Indeed, the category has seen fairly static sales of late, with berries stealing a greater share of the fruit basket. Kantar figures for the year to 11 August revealed a 2.8 per cent slide in value sales for apples, though that was all to do with lower pricing rather than a lack of interest.
In spite of the challenges, recent years have seen the emergence of several new club varieties, looking to compete for their piece of the apple pie. The likes of Smitten, Kissabel, Opal and Sunburst recently joined Jazz, Cameo, Kanzi and, of course, Pink Lady in the ranks of club varieties available at British supermarkets. Their growers and marketers will all be hoping these branded varieties can continue to eat into the sales of traditional varieties like Royal Gala, Braeburn, Cox and Granny Smith, which still occupy the most shelf space. However, it will take time before we know whether these new apples can carve out a distinct proposition for themselves and emulate the success of Pink Lady, the UK's biggest fresh produce brand.
Another new club variety to watch is Yello, developed by Italian apple marketers Vog and VI.P to replace the veteran yellow-skinned variety Golden Delicious, which has fallen out of favour in certain European markets such as the UK and Germany. "With Yello, we wanted to take an excellent opportunity: that of breaking new ground in the yellow apple segment, historically the realm of a single traditional variety," says Vog director Walter Pardatscher. "We aim to target consumers who are looking for an apple with a pleasant straw-yellow colour skin and with an intense and slightly exotic and tropical aroma. This intensifies in the mouth with the appearance of pineapple, pear, honey and lemon peel notes."
Initial trials at wholesalers and retailers in seven European countries, including the UK, returned "positive results", according to Pardatscher, who says customers liked its colour, round shape and "crisp, juicy consistency", while consumers appreciated its sweet taste and "slightly exotic" aroma. Tests in Asia have also been encouraging, according to the companies.
A cross between Golden Delicious and Senshu, the variety, known as Shinano Gold, was developed by Vog's Innovation Consortium in collaboration with Laimburg Research Centre and the Alto Adige Consultancy Centre. And it has now been 14 years since the first Shinano Gold tree was planted in the Austrian apple-growing region of Alto Adige in South Tyrol – testament to the patience and persistence needed in topfruit varietal development.
In 2016, the exclusive permanent production and marketing license was agreed by Vog and VI.P for growers across Europe and the Mediterranean basin, and in November that year the apple made its commercial debut in Italy. Investment in new planting continues, with more than 160,000 new trees – equal to around 40 hectares – planted in spring 2019. This season, Yello output is expected to reach 1,000 tonnes, a figure that is set to double in 2020 to around 2,000t.
Last year's campaign wasn't particularly easy for the European apple sector, Pardatscher reports, with a "general excess" of apples pushing down the price of traditional varieties, however he says club varieties "proved their strength, maintaining market share and "obtaining satisfying results compared to other varieties". On the back of this, the South Tyrolean consortium, which has producers across the region, is boosting the production of its various club varieties this season, with planted area increasing in Crimson Snow (+150ha), Envy (+140ha), Pink lady (+120ha), Joya (+120ha), Shinano Gold/Yello (+80ha) and Sweetango (+30ha).
The last of these varieties, Sweetango, is also being marketed by another of Italy's leading apple marketers, Melinda. The crisp, juicy, red and green variety is a cross between Honeycrisp and Zestar, bred by David Bedford at the University of Minnesota. The American variety is now also grown by various licenced producers in Italy, Austria, Switzerland and Germany, and according to the company's head of marketing Andrea Fedrizzi, customers and consumers in both retail and wholesale have been "excited" by trials. For the moment, Melinda is mostly selling its new varieties – which also include Gradisca and the extra-juicy Morgana – in Italy due to limited volumes, however in future it plans to also sell them abroad.
Focusing on the UK market more specifically, Pink Lady puts its success down to its "assurance of quality" combined with "sustained, wide-ranging and carefully targeted marketing". "As a brand we put a lot of effort into creating a dialogue with those who buy our apples," says PR and social manager Kyla Flynn. "Our aim is to ensure all our marketing builds brand salience and helps to increase loyalty among apple buyers."
Under the theme 'Feel the Wow', Pink Lady recently introduced lifestyle-focused PR and social campaigns that take the brand into new areas such as reading, music and live experiences, identified as being valuable to target consumers. The brand will be hosting a gig later this year at Liverpool Central Library and Flynn reports that, following dialogue with consumers, the brand will also introduce a number of new packaging formats designed to minimise waste and the use of single-use plastics.
Flynn points out that apples' position as a staple, unconscious purchase is a "double-edged sword" from a sales perspective. Although lots of consumers buy apples regularly, they "do not 'desire' them in the same way as they do berries", she says. "Apple brands and producers are dealing with a category in shift. Shelf space is being reduced to make room for berries, and apples risk being viewed as a commodity purchase, making it vital to build relationships with consumers in order to drive loyalty."
This is where brands like Pink Lady have the advantage, she believes, since they offer consumers "a desirable, great-tasting experience, while still fulfilling the need for an apple a day." The sales figures appear to support this assessment, with Pink Lady value sales rising 8.8 per cent in the year to 11 August, while the overall apple category shrunk by 2.8 per cent, as mentioned.
Despite the brand's strength and prominence, it is no secret that brand visibility can be difficult to secure at Britain's own-brand-focused retailers. However, Flynn says Pink Lady has made "huge progress" in this respect, and now has branded packaging in both Asda and Morrisons – two retailers that represent a large volume of its UK sales. Soon, the brand may also be able to feature a Union Jack on its packaging, as brand marketer Coregeo and license manager Star Fruits have announced a UK trial with Kent growers Adrian Scripps and Worldwide Fruit of the brand's Rosy Glow, Sekzie and Cripps Red varieties. "This trial, if successful, will mean British-grown Pink Lady apples on the market for the first time," says Flynn. "We know there is a huge demand for homegrown fruits from both retailers and consumers."