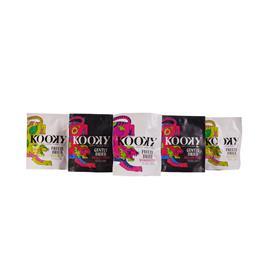 Fruity new brand, Kooky, launched its exotic Thai snacks on the UK market yesterday (1 July), with a range that includes freeze dried jackfruit, mango and mangosteen, and gently dried, soft and chewy banana and dragon fruit.
Dried to 'keep the goodness inside', Kooky's founders Aline Burgmann and Deena Tansaid their range of unusual snacks are 100 per cent fruit, making up one of your five-a-day.
'Convenient, guilt-free and full of flavour, the snacks are loaded with vitamins, minerals and antioxidants that will keep customers looking and feeling great whilst allowing them to travel with their taste buds,' they added.
In development for two years, Kooky's journey began when Burgmann and Tan met while dropping their daughters off at school.
Bonding through their Asian roots and Western upbringings, the two mums found themselves sharing stories and challenges involving their East-West fusion of traditions, cultures and mindsets.
Recognising a shared passion for exotic fruit, the duo created Kooky, intending to bring the best fruits of the East to the West by utilising unique relationships with Thai farmers that serve to empower local producers.
Discussing the new venture, Tan said, "Dried fruits come with an extensive shelf-life without compromising on the nutritional value, which is why their consumption is rising – especially amongst health-conscious consumers. Having a love for this type of food ourselves, we noticed a distinct lack of exotic fruit options available within the UK market. Consequently, we have selected a range of fruit that is lesser known and yet just as delicious.
"Our aim is to introduce consumers to a different taste palette and broaden their minds with a variety of uncommon fruits that are beautifully unusual, just like how we are all unique in our own ways. We do this while ensuring the farmers themselves receive fair treatment. Ethical business is core to our beliefs, and this is inherent within the Kooky brand." Tan continued.
The Kooky brand seeks to embody its values of community, curiosity and kindness throughout its business practices and supports many good causes such as Women for Women International, she added.
'Devoted to helping women in post-conflict countries rebuild their lives and create a brighter future for themselves and their families, this is a cause that will remain close to Kooky's heart.'
Discussing their plans for Kooky, Burgmann said: "Following Kooky's launch, our focus will be on breaking into new markets and as such are looking to partner with retailers across the UK. We would welcome anyone interested in stocking Kooky to get in touch, and we look forward to introducing you to our pretty unique fruit.'