Lidl GB Christmas sales rose 24.5% year-on-year as 1.3m more customers shopped in its stores over the festive period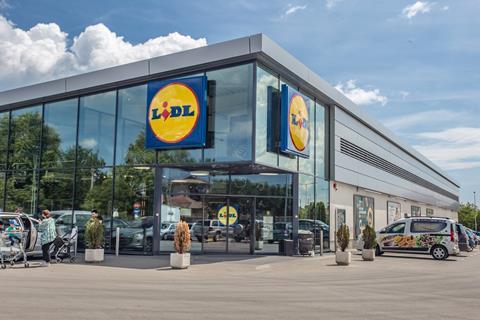 More than 1.3 million more customers shopped at Lidl GB during the run up to Christmas, as the discounter's sales increased 24.5% year-on-year.
UK shoppers switched nearly £63m spend from other supermarkets to Lidl – almost triple that of last year – over the festive period, Lidl GB said, adding that Friday 23 December was its "busiest ever" day of trading in 28 years.
Lidl's low prices and award-winning product ranges helped the retailer attract customers from more expensive traditional supermarkets, the discounter said.
Families filling their fridges and food cupboards with produce from Lidl GB were able to benefit from some of the lowest prices on the market, with a Christmas dinner costing just £2.75 per head. As people turned to the discounter for seasonal staples, its 'Pick of the Week' Christmas veg returned at 19p each, with sales jumping by over a third (37%) YoY.
Ryan McDonnell, CEO at Lidl GB, said: "Every week of the year we are seeing more customers coming through our doors, switching spend to Lidl from the traditional supermarkets. We know they switch to us to make savings, but then they stay with us when they realise that they're not having to compromise on quality, and this Christmas was no exception.
"Our strategy - great quality products at low prices - has remained the same since we first opened our doors over 28 years ago. But that is only because it's as relevant now as it ever has been. It is working because we are seeing big switching gains with over £63m of spend moving to us in the four weeks to the 25 December. We only see this momentum continuing in 2023."
Following its pledge to make its largest community food donation ever, the equivalent of 1 million meals were donated through surplus food donations. On Christmas Eve alone, the retailer donated approximately 150,000 meals to those in need.
McDonnell continued: "As we head into another new year, we're laser focused on strengthening our infrastructure across the country. As we continue with the expansion of our distribution centres in Belvedere and Bridgend, we're set to open our biggest ever warehouse in Luton later this year. This doubles down on our efforts of giving more communities access to our unrivalled quality-value combination, something that's particularly important as families continue to tighten their belts in the current climate."
Since establishing itself in Great Britain in 1994, Lidl GB has experienced continuous growth and today has over 28,000 employees, over 950 stores and 13 distribution centres in England, Scotland and Wales.